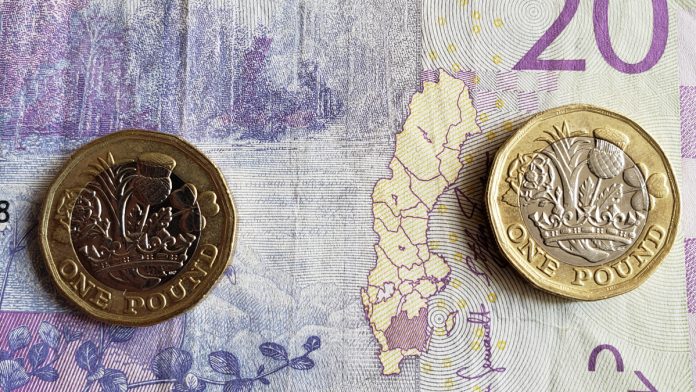 The Swedish Krona is consolidating gains on Wednesday after surging versus the British Pound in the previous session. The Krona settled on Tuesday over 1% higher at 12.3012, the strongest level that the Krona has traded at in a month after the Riksbank left rates on hold and retail sales beat expectations.
At 06:45 UTC, GBP/SEK traded -0.07% at 12.2969. The daily traded range was 12.2805 – 12.3178.
Riksbank Adds Corporate Bonds To QE Programme
The Swedish Krona shot higher in the previous session after the Riksbank added high grade corporate bonds to its record $30 billion quantitative easing programme, in order to prevent a credit crunch. The Swedish central bank kept its main interest rate at 0 as analysts had expected. Whilst the bank acknowledged that a rate cut was an option, Riksbank governor Stefan Ingves also confirmed that it wasn't a very meaningful way to stimulate demand in this current crisis. The move by the bank to use its balance sheet rather than rates as a principal tool, pleased investors sending the Swedish Krona higher.
Swedish retail sales also surprised to the upside, declining -1.7% month on month in March, comfortably higher than the -2.8% decline forecast. On an annual basis, retail sales managed to remain positive, increasing 0.6% year on year, versus a 1.2% decline in a sign that Sweden's lighter approach to covid-19 could be helping to preserve the economy.
Sweden's more relaxed approach to coronvirus meant that the government didn't implement a blanket lock down on the economy. Instead with bars, schools and restaurants remaining open. It is still too early to tell whether the approach has been successful.
UK One Of Worst European Death Tolls
The Pound is holding steady on Wednesday as investors focus on coronvirus statistics and the next steps towards easing lockdown measures. Data from the Office of National Statistics show that total coronavirus fatalities are over 24,000 as of 19th April meaning that the UK will be one of the worst hit countries in Europe. The ONS data is higher than the governments because it includes deaths in the community, such as care homes. The figures put the UK on track to be on of the worst hit countries.
Coronavirus statistics and any further clues on Britain's exit strategy will be closely monitored.
---