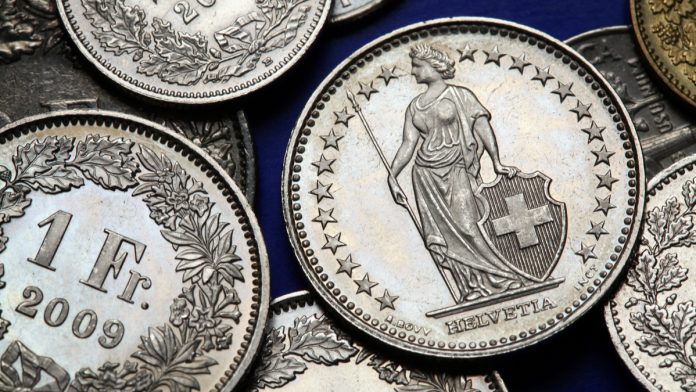 The Swiss Franc is declining versus the Pound for a third consecutive session on Tuesday. The Swiss France settled on Monday -0.7% lower against starling at 1.2125.
At 11:15 UTC, GBP/CHF is trading +0.2% at 1.2153, slightly off the high of the day and a 7 week high of 1.2205 and mid-way between the daily traded range of 1.2111 – 1.2205.
Switzerland Eases Lock Down
The Swiss France hit its weakest level in 7 weeks earlier today as risk sentiment picks up in the broader market. As economies across Europe, including Switzerland are gradually starting to reopen investor risk appetite is growing, boosting demand for riskier assets. Meanwhile safe havens such as the Swiss Franc is out of favour.
In Switzerland several sectors of the economy have resumed activities as from yesterday. Some businesses will only reopen on 11th May and other 8th June. Some economists are indicating that the pace of reopening should be picked up in order to save the Swiss economy from heading into its worst recession since World War 2.
Investors will now look ahead to the release of Swiss economic sentiment data tomorrow. Analysts are expecting Swiss investor sentiment to pick up slightly in April to -41, after plunging 53 points to -45.8 in March, the lowest level since the 2015 Franc shock, amid growing fears of the negative impact of Covid-19 on the global economy. A weaker than forecast reading could see the Swiss France decline.
UK Plots Gradual Reopening
The Pound is trading broadly higher versus peers as UK Prime Minister contemplates the next steps in the fight against coronavirus. The with coronavirus statistics improving, the PM has been under growing pressure to lay out the UK's exit strategy from lock down.
Boris Johnson is expected to flesh out how the UK will start to ease lock down measures this week with more public services opening and more people urged to return to work. Garden centres and shops where social distancing can be most enforced could open soon. Although the lock down is not set to be officially reviewed until 7th May.
---