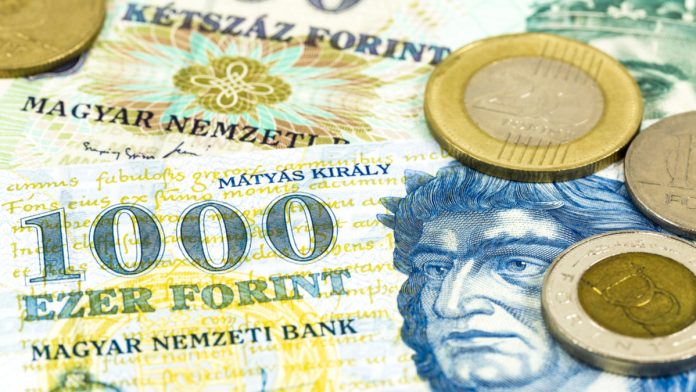 The Hungarian Forint is trending higher versus the US Dollar at the start of the week, extending gains from Friday's session. The Hungarian Forint settled on Friday 0.9% stronger at 328.73. However, the Forint was softer across the weak, declining -1.2% from 324.57.
At 09:15 UTC, USD/HUF is trading -0.7% lower at 326.37. This is at the lower end of the daily traded range of 326.11 to 329.57.
USD/HUF: Hungarian Economy To Reopen In May
The Hungarian Forint advanced on Friday and continues to trend higher today as investor's focus shifts towards the easing of lock down measures both in Hungary and Europe, particularly Germany, Hungary's largest trading partner.
On Friday, Hungarian Prime Minister Viktor Orban said that Hungary will begin easing lock down restrictions early next month. Viktor Orban also added that he believed that the Hungarian economy would recover quickly from the impact of the coronavirus crisis.
So far, the month-long lock down has crushed the Hungarian economy, destroying thousands of jobs. Viktor Orban has said that it is a priority to rebuild the labour market. Think tank GKI has forecast that an additional 100,000 people will lose their jobs in April after 60,000 lost their jobs in March.
Hungary will follow a path of easing lock down measures which is similar to neighbouring country Austria. This will include the reopening of schools, businesses and bars. However, the old, vulnerable and those living in big cities will remain in lock down for now.
Adding to the good news, Germany, Hungary's largest trading partner recorded 1000 fewer new infections on Sunday and is carefully reopening the economy.
US Dollar Declines On Steve Mnuchin's Optimism
The safe haven US Dollar is edging lower across the board on Monday amid a risk-on sentiment in the broader financial market. The mood in the market improved after Treasury Secretary Steve Mnuchin said that he forecasts that the US economy will rebound strongly in the third quarter, owing to the huge levels of fiscal stimulus being injected into the system.
There is no high impacting US economic data due to be released today. Investors will look ahead to Tuesday's consumer confidence data and Wednesday's Federal Reserve monetary policy announcement and GDP release.
---