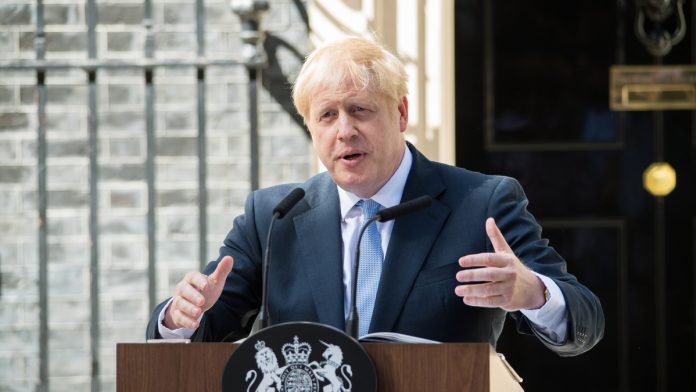 The Pound is pushing higher versus the Euro at the start of the new week after ending the previous week on the back foot. The Pound lost 0.5% versus the common currency in the previous week. After falling sharply at the start of last week hitting a two-week low of €1.1279, the Pound then clawed back some of those losses across the latter part of the week. The pair settled on Friday at €1.1430.
At 06:00 UTC, GBP/EUR was trading +0.4% at €1.1469 as UK Prime Minister Boris Johnson returns to work in Downing Street.
GBP/EUR: Pound Jumps On Boris Johnson's Return
The Pound showed resilience at the end of last week despite the release of some very worrying data. The UK Markit PMI and UK retail sales data highlighted the damage that coronavirus was inflicting on the UK economy. The PMI plunged to a record low of 12.3, down from 34.5. Whilst retail sales dived by -5.1% the most on record in March, with a worse reading expected for April. Businesses are collapsing and millions have been furloughed. The Bank of England has warned that the UK will experience its worst economic contraction for centuries.
The Pound is advancing as Boris Johnson has returned to Downing Street to take charge of the government. Pressure is on for Boris Johnson to explain how it will end the month-long lock down and save the economy from complete devastation. Any talk of easing the UK lock down could support the Pound.
Coronavirus fatalities dropped to 413, taking the total to 20,732. Confirmed cases increased by 4463 to 152,840.
Euro Looks Ahead To ECB Meeting
The Euro rose versus the Pound last week despite the horrendous Eurozone PMI readings. The Eurozone composite reading fell from 29.7 to 13.5, the lowest ever reading as covid-19 wreaked havoc on the region's economy.
The European Union's solidarity was also called into question after the group failed again to deliver an ambitious unified response to the unfolding economic crisis in the region.
There is no high impacting economic data today and this week is relatively quiet on the data front compared to last week.
Thursday's rate decision announcement from the European Central Bank is expected to be the big focus for Euro investors in addition to any lock down news. Whilst countries across Europe are starting to ease restrictions, Italy has advised that schools won't reopen until September.
---