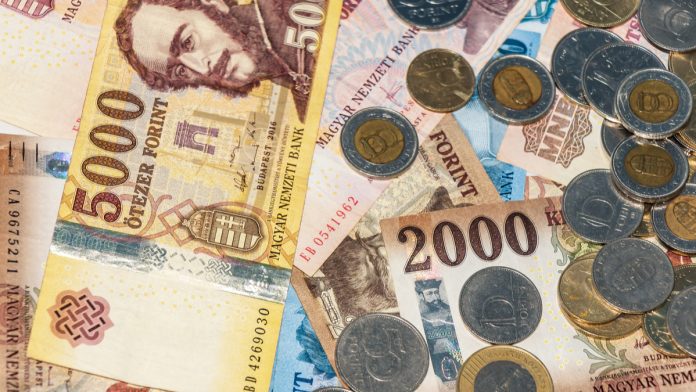 The Hungarian Forint is extending losses versus the US Dollar on Thursday for the third straight session. The Forint closed 1.1% lower at 329.99 on Wednesday.
At 09:15 UTC, USD/HUF is trading 0.4% higher at 331.12. This is the middle of range of the daily trading range of 329.07 – 332.29 as investors digest dire data from the Germany, Hungary's largest trading partner, and as investors look ahead to the release of US jobless claims later today.
German Composite PMI Shocks Sending Forint Lower
The Forint is trading on the back foot following a record dive in German business activity. IHS Markit's data revealed that Germany's private sector recession deepened further in April as both services and manufacturing output experienced record declines.
The composite purchasing manger's index, which tracks both the service sector and the manufacturing sector, together accounting for over 65% the German GDP, plunged to 17.1 in April. This was down from 35 in March and well short of analyst's expectation of 31. To put these figures into context, at the depths of the financial crisis, the German composite index dropped to a low of 36.3.
The data illustrates the extent of the hit that the German economy is experiencing amid the coronavirus lock down. A recession of historic proportions is happening.
Given that Germany is Hungary's largest trading partner, this is bad news for Hungary's economy and the Forint. Analysts polled by Reuters expect the Hungarian economy to contract by 4.1% in 2020, followed by 4.7% in 2021. Some economists forecast the Hungarian GDP contracting by as much as 8% – 9% in 2020.
US Jobless Claims Up Next
The US Dollar is edging higher across the board as European data weighs on risk sentiment. US investors will now look ahead to US jobless claims figures. These have become the most closely watched release across the week.
Analysts are expecting a further 4.5 million Americans to file for unemployment claims in the week ending 17th April. This would add to the 21 million that signed up in the prior 4 weeks. The put this into context, all the jobs that have been created since the financial crisis will have been wiped out. A higher number of claimants could boost demand for the safe haven US Dollar.
---