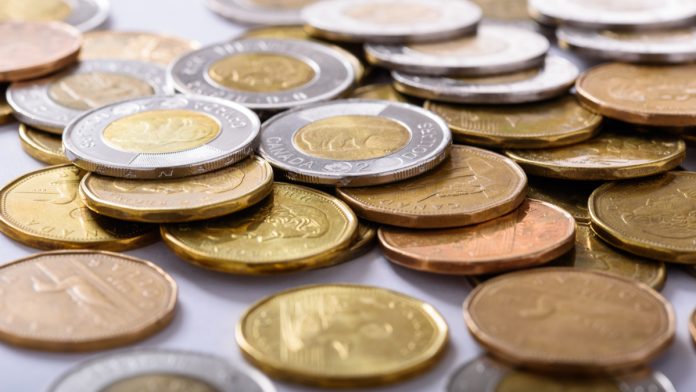 GBP/CAD has been moving sideways on Wednesday, though the pair might become more volatile by the end of the session, as Canada is set to release its inflation data for March. Currently, one British pound buys 1.7500 Canadian dollars, up 0.20% as of 11:35 AM UTC. The daily gain came a few minutes ago after a sudden spike. The price hasn't been trading since the end of March.
The sterling couldn't benefit from a weakened Loonie that has been dragged down by tumbling oil prices. The British currency has been under pressure amid worries that the lockdown measures would have a significant impact on the economy as the UK should negotiate a trade deal with the European Union. Both currencies fell against the US dollar yesterday.
The pound found reliable support versus the Canadian dollar at about 1.7450 and is set to move higher as the UK released decent inflation data.
UK Inflation Slows in Line with Expectations
The Office for National Statistics (ONS) said in the morning that the UK's consumer price index (CPI) rose 1.5% last month year-on-year, after a 1.7% rise in February. The slowdown was in line with analysts' expectations. The decline in prices of clothing and footwear dragged the inflation down. The ONS said:
"Prices usually rise between February and March, and this year's fall is the first since 2015 and only the second since the start of the constructed (inflation) series in 1988."
The statistics agency considers that the coronavirus pandemic had impacted consumers' behavior even though its data was collected on March 17, several days before the lockdown measures were introduced by the government.
The inflation target set by the Bank of England (BoE) is 2%. BoE Deputy Governor Ben Broadbent said earlier this week that UK inflation was likely to drop below 1% in the coming months, which leaves sufficient room for the central bank to continue its stimulus.
The tumbling oil prices will also contribute to a decline in prices.
Andrew Wishart, UK economist at Capital Economics, commented:
"The disinflationary pressure of weak demand in the aftermath of the coronavirus recession due to the fall in employment and consumers remaining cautious will add to the downward influence from very low energy prices."
---