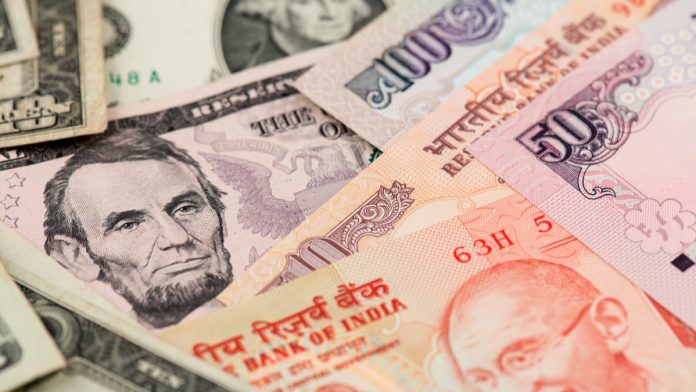 The Indian Rupee is extending losses versus the US Dollar for a second straight session on Tuesday, as it trends back towards its record low.
At 11:15 UTC, USD/INR is trading +0.4% at 76.88. This is at the top end of the daily trade range of 76.57 – 76.88 and also just shy of the all-time record low of 76.91 reached last week.
Covid-19 Hits Business Confidence
The Indian Rupee continues to trade on the back foot as business confidence in the country drops to the lowest level since the global financial crisis in 2008. According to the Federation of Indian Chambers of Commerce and Industry (FICCI), business confidence in India dropped to 42.9 from 59 in the previous survey. This is the lowest level for business confidence in over a decade as the coronavirus outbreak and lock down negatively impacts businesses.
The Indian Rupee is also on the back foot as risk sentiment in the broader financial markets slumped on Tuesday. The hit to risk sentiment came amid concerns over the health of the North Korean leader Kim Jong-Un. The leader is reportedly in a critical condition after heart surgery. This raises concerns over succession in the nuclear rogue state.
Adding to the risk off sentiment was the historic and unprecedented drop in the price of oil, which saw West Texas Intermediate for May delivery trade in in negative territory. This mean that sellers were paying to sell crude for delivery today. This highlights the extent to which demand for oil has tanked. With no demand amid global lock down, and no space to store oil, the black gold has become worthless.
US Home Sales
The US Dollar was pushing higher versus its peers on Tuesday as investors flocked towards its safe haven properties.
US Dollar investors will look towards US corporate earnings and homes sales for further clues over the impact that coronvirus is having on the US economy. With social distancing rules keeping buyers and sellers apart, the home sales are expected to drop -8.1%. A weaker reading could boost the safe haven US Dollar.
---