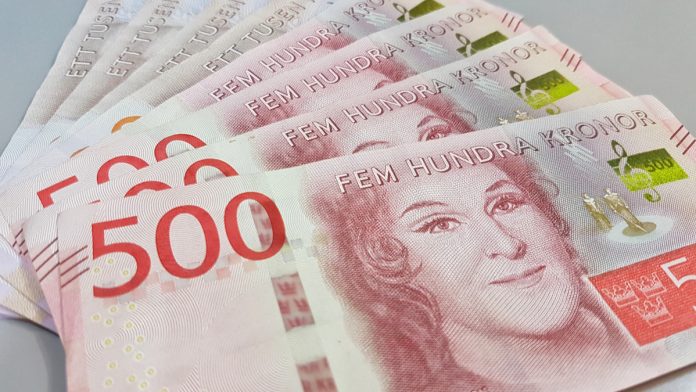 The Swedish Krona is dropping versus the Pound on Tuesday, snapping a 5-session winning streak. The Pound Swedish Krona exchange rate closed on Monday -0.1% lower at 12.4646 as coronavirus statistics showed that Sweden's herd immunity approach could be working and after the UK Chancellor announced that British firms had furloughed over 1 million employees on the first day of applications.
At 06:45 UTC GBP/SEK was trading up +0.1% at 12.47 as oil plunges into negative territory and as investors look ahead to UK labour market data, which could start answering questions as to how large the hit to the UK economy will be.
UK Claimant Count In Focus
The Pound is advancing as the number of coronavirus deaths in Britain increased by 449, the smallest increase in two weeks, boosting optimism that the UK could be past its peak.
Today's move higher comes after the Pound sunk the previous session following Chancellor Rishi Sunak announcement that British employers have put more than a million staff on leave due to covid-19, on the first day of application. The government scheme will pay 80% of workers wage bill until the end of June. The number of Britain's furloughed could reach up to 8 million over the coming months.
Today investors will turn their attention to the UK labour market report. Whilst average earning and the unemployment components of the report relate to February, the claimant count, also known as initial claims, is for March. The data will therefore provide insight into the size of the economic hit from coronavirus. 172,5,000 claims are expected, ten times February's 17,3000.
Swedish Krona Drops As Oil Turns Negative
Sweden recorded just 40 new coronavirus deaths on Monday, taking the total to 1,580. Whilst 392 new cases were also announced bringing total infections to 14,777, as the country continues to resist a full lock down. Whilst Swede, like other countries, typically sees a fall in reported cases on Sunday and Monday, there is growing optimism that roam free-attitude to conquering coronavirus could be working.
The Swedish Krona is coming under pressure as the price of oil, a Swedish export, falls to record lows. Oil for May delivery went negative for the first time ever amid growing concerns of a global storage shortage.
Today unemployment data for March will be in focus and is expected to show that the jobless rate rose to 8.9%, up from 8.2%. A weaker than forecast reding could drag on the Krona slip lower.
---