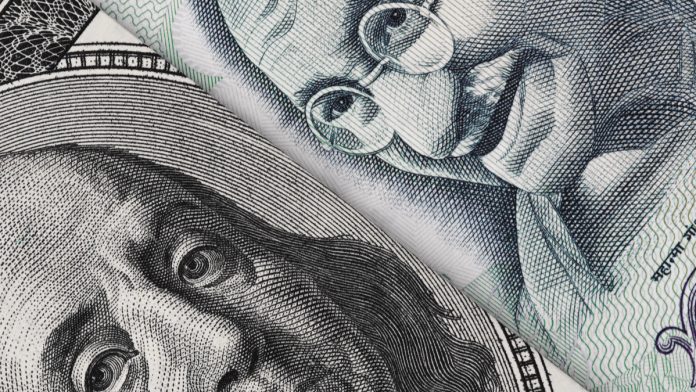 The Indian Rupee dropped to a record low versus the greenback amid another warning from the International Monetary Fund (IMF) and growing concerns over the coronavirus outbreak in India.
At 11:15 UTC USD/INR is trading +0.45% higher at 76.88 after hitting a fresh record high of 76.89 as the pair inches closer to 77 in risk off trading.
Risk Sentiment Weighs on Rupee
Risk aversion is a key driving factor for the Indian Rupee as investors are increasingly seeking the safety of the US Dollar and moving out of riskier currencies such as the Indian Rupee. Investor sentiment is fragile amid fears over the impact of coronavirus and the government-imposed lock down on both the domestic and global economy.
The IMF warned that Asia's economic growth will grind to a halt this year for the first time in 60 years, as the coronavirus outbreak has an unprecedented impact. The IMF warned that the slowdown would be worse than the global financial crisis of 2008/9 and worse than the Asian financial crisis of 1997. The service sector will be the hardest hit owing to the lock down measures being imposed to protect the public.
Whilst the number of coronavirus cases across the globe has reached 2 million, in Indian over 12,000 cases have been confirmed. The death toll currently sits at 377. However, doctors fear that the numbers could be much worse as low testing numbers mean many cases could be passing undetected.
The Indian government has laid out plans for the gradual reopening of the economy, which will permit some manufacturing, agricultural work and some construction work after 20th April.
US Initial Jobless Claims In Focus
The US Dollar trading higher across the board, benefiting from safe haven flows amid dismal US corporate earnings and dire economic data. Data from the US Commerce Department showed that retail sales slumped -8.7% in March, highlighting the collapse of consumer demand as the lock down started.
Today investors will look ahead to US initial jobless claims, which are expected to show an additional 5.1 million American's signed up for unemployment insurance in the week ending 10th April. This would take the total over a 4-week period to 21 million, or around 13% of the US workforce. A weak reading could boost demand for the safe haven US Dollar.
---