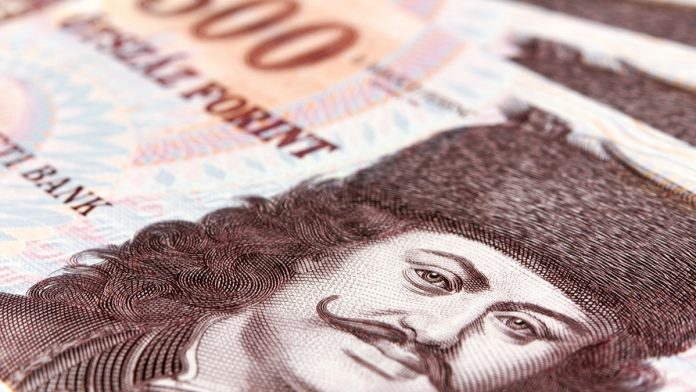 Improving risk sentiment is boosting the Hungarian Forint on Wednesday, for a second straight session. The Forint settled the previous session 0.3% stronger versus the US Dollar at 337.23.
At 09:15 UTC, USD/HUF is trading -1.6% at 331.55, a five day low as investors cheer signs that coronavirus cases are levelling off both in the worst effected European areas and in New York.
Hungarian Industrial Production Jumps
The Hungarian Forint is extending gains on improved risk sentiment across global markets. Coronavirus numbers in old continent Europe continue to show an easing in new coronavirus cases. Germany, Hungary's single most important trading partner announced that the number of covid-19 recoveries outpaced the number of new cases. These statistics are boosting optimism that the lock down could soon be eased. The economic recovery can only begin when an exit strategy from lock down begins.
Better than forecast industrial production data is also lifting the Forint. Industrial output increased 4.1% year on year in February. This was a vast improvement on last months' 2.4% increase and analysts' expectations of 2.9%. The data was from before the coronavirus outbreak escalation. However, it did show that Hungarian industry was entering the coronavirus crisis on a solid footing.
The Forint is rebounding after initially falling at the beginning of the week after Hungarian Prime Minister Viktor Orban announced details of a $30 billion economic stimulus package, around 18% -20% of GDP. The measures will include subsidised loans to Hungarian companies. Orban also said that the Hungarian government was prepared to pay some wag costs of companies if they were forced to cut hours.
 Safe Have US Dollar Drops
The US Dollar is trading lower across the board on Tuesday amid improved risk sentiment. As covid-19 statistics show the increase in coronavirus cases easing, the demand for safe haven currencies such as the US Dollar is easing. Reports that the White House is considering another rescue package is also lifting the mood in the market.
There is no high impacting US data due for release today. Instead investors will remain focused on coronavirus statistics and look ahead to the release of the minutes from the Federal Reserve monetary policy meeting from March.
---