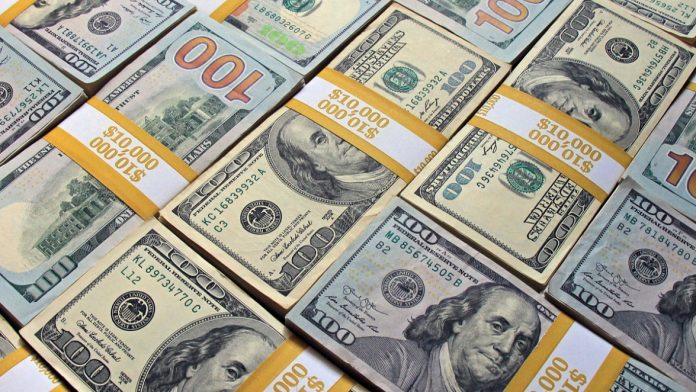 Political uncertainty and fears of a hard Brexit pulled the pound sharply lower on Thursday. The pound US dollar exchange rate dived to a fresh 3 month low of US$1.2788.
What do these figures mean?
When measuring the value of a pair of currencies, one set equals 1 unit and the other shows the current equivalent. As the market moves, the amount will vary from minute to minute.For example, it could be written:1 GBP = 1.28934 USDHere, £1 is equivalent to approximately $1.29. This specifically measures the pound's worth against the dollar. If the US dollar amount increases in this pairing, it's positive for the pound. Or, if you were looking at it the other way around:1 USD = 0.77786 GBPIn this example, $1 is equivalent to approximately £0.78. This measures the US dollar's worth versus the British pound. If the sterling number gets larger, it's good news for the dollar.
UK Prime Minister has been under mounting pressure to hand in her resignation following her failure to deliver Brexit within the 2 years set out. On Thursday Theresa May gave in to that mounting pressure, confirming that she will set out her timetable to resignation in June, regardless of her Brexit vote goes. Analysts widely expect Theresa May's Brexit deal to fail for a fourth time when she puts it to the house of commons in early June.
Pound investors were far from thrilled when ex-foreign secretary and hard line Brexiteer Boris Johnson confirmed that he would be putting himself forward as a candidate for Prime Minister. Pound investors are afraid that a Brexiteer Prime Minister will mean that the possibility of a pound favourable softer version of Brexit have almost disappeared. The chances of a hard no deal Brexit have suddenly increased dramatically. As a result, the pound is falling.
Why is a "soft" Brexit better for sterling than a "hard" Brexit?
A soft Brexit implies anything less than UK's complete withdrawal from the EU. For example, it could mean the UK retains some form of membership to the European Union single market in exchange for some free movement of people, i.e. immigration. This is considered more positive than a "hard" Brexit, which is a full severance from the EU. The reason "soft" is considered more pound-friendly is because the economic impact would be lower. If there is less negative impact on the economy, foreign investors will continue to invest in the UK. As investment requires local currency, this increased demand for the pound then boosts its value.
Today the UK economic calendar is very light once again. Pound investors will remain focused on Brexit and domestic political developments.
Data & Earnings Keep Dollar Buoyant
The dollar kept on rising on Thursday owing to solid US data and robust earnings on Wall Street even as the US—Sino trade dispute rumbled on. Both housing starts and Building permits went up on a monthly basis by more than what analysts had anticipated, whilst unemployment claims declined. Stellar earnings on Wall Street by Walmart and Cisco also supported the idea that the US economy was holding up well.
The strong data and earnings come as a well-received distraction for investors who had been focusing on the US—Sino trade dispute. Whilst earlier on Thursday Trump put Huawei on an export blacklist, stoking tensions with China. By the afternoon, Trump said he was hopeful of a trade agreement being reached.
Today the only US data of interest will be the US University of Michigan confidence reading. Analysts are expecting this to edge higher and therefore be supportive of the dollar.
---

This publication is provided for general information purposes only and is not intended to cover every aspect of the topics with which it deals. It is not intended to amount to advice on which you should rely. You must obtain professional or specialist advice before taking, or refraining from, any action on the basis of the content in this publication. The information in this publication does not constitute legal, tax or other professional advice from TransferWise Inc., Currency Live or its affiliates. Prior results do not guarantee a similar outcome. We make no representations, warranties or guarantees, whether express or implied, that the content in the publication is accurate, complete or up to date. Consult our risk warning page for more details.
This article was initially published on TransferWise.com from the same author. The content at Currency Live is the sole opinion of the authors and in no way reflects the views of TransferWise Inc.