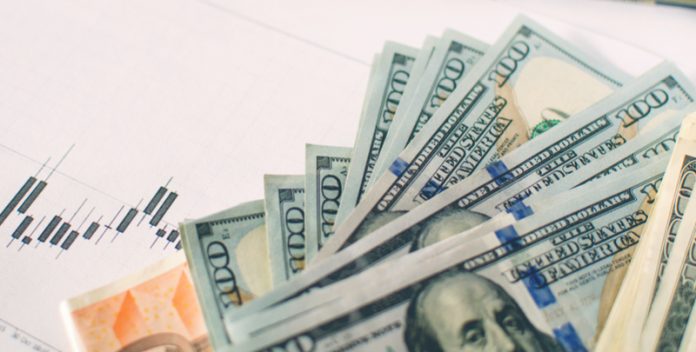 The euro had a challenging start to the week as political risk raised its head once more in Europe. The possibility of a snap election in Italy has increased substantially over the past few days and now there could be an election as soon as September, instead of the baseline scenario of an election next year.
Euro weakness didn't last for long, and the euro U.S. dollar exchange rate quickly shifted higher for the euro. The EUR/USD briefly burst through $1.12 before settling back at $1.1188.
Will eurozone inflation help support the euro?
There's plenty of economic data for the markets to dwell on today, shifting the focus away from Italy. Eurozone inflation figures are expected to attract attention, especially after the President of the European Central Bank, Mario Draghi, dampened hopes of an interest rate rise soon. Draghi said that the currency bloc still needed "an extraordinary amount of monetary support" despite strong economic figures. Usually, high inflation will prompt a central bank to increase interest rates. Following Draghi's comments, even strong inflation figures appear unlikely to shift the ECB's stance.
Bloomberg analysts expect eurozone inflation to register at 1.5%, down from the previous month's reading of 1.9% and some distance from the ECB's target of 2%. Although other economic indicators are picking up encouragingly across the region, inflation is remaining stubbornly low. Draghi and the ECB are quite clear about not raising interest rates soon, and an inflation rate below target will only cement their position.
If you want to understand exchange rate movements, you'll need to pay attention to raised interest rates. If the interest rate is higher, or at least is expected to be higher, than another country, then that country has a tendency to attract more foreign capital investment. Higher interest rate countries tend to offer higher returns. And, in order to invest, institutions needs local currency. Thus, increasing the demand for the local currency and pushing up its value.
Should we see eurozone inflation come in lower than forecasted, then we could expect the euro to move even lower, as the interest rate expectation would remain low.
Dollar subdued as fewer rate hikes expected in 2017.
The mood for the dollar has also been relatively weak across the board. Despite inflation data coming in worse than analysts were expecting, Federal Reserve members have been forthcoming regarding a June rate hike as likely. However, any further rate hikes across the rest of the year look dependent on stronger economic data being released. With this in mind, investors will pay particular attention to the U.S. pending home sales and Purchasing Managers Indices which are due for release later today.

This publication is provided for general information purposes only and is not intended to cover every aspect of the topics with which it deals. It is not intended to amount to advice on which you should rely. You must obtain professional or specialist advice before taking, or refraining from, any action on the basis of the content in this publication. The information in this publication does not constitute legal, tax or other professional advice from TransferWise Inc., Currency Live or its affiliates. Prior results do not guarantee a similar outcome. We make no representations, warranties or guarantees, whether express or implied, that the content in the publication is accurate, complete or up to date. Consult our risk warning page for more details.
This article was initially published on TransferWise.com from the same author. The content at Currency Live is the sole opinion of the authors and in no way reflects the views of TransferWise Inc.