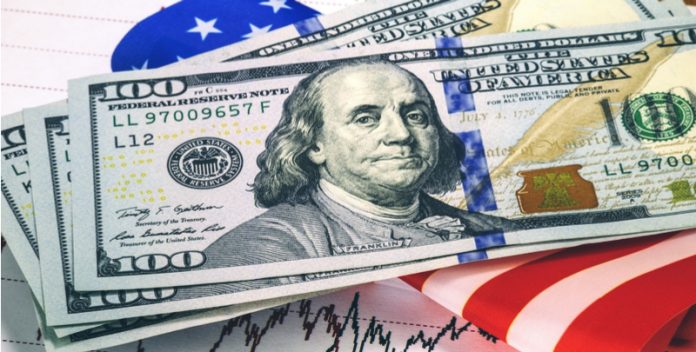 The dollar perked up considerably with the news that the U.S. economy isn't faring quite as badly as initially assumed. Dollar strength caused the euro U.S. dollar exchange rate to fall 0.4% to 1.1160, its lowest level in almost a week.
It turns out the U.S. economy had a better start in 2017 than the first set of published figures gave credit for. The American GDP underwent a positive revision for its first quarter of the year, from 0.7% to 1.2%. That number even beat Bloomberg's analysts expectations of 0.9%. In the Federal Reserve's May meeting, whose minutes were released just this week, they noted they'd like to make sure that the recent unfavourable data coming out of the U.S. is only temporary. Once they feel confident this is the case, they will then consider tightening policy by raising interest rates. Today's data was a step in the right direction for the U.S. as the expectation for an interest rate rise in June is now at a little over 83%. A good sign.
Why are raised interest rates important for currency exchange? Interest rates are key determinants for exchange rates. This is because investors look to invest their money into a country with a higher interest rate relative to another country. In this case, if the U.S. has higher interest rates or is expected to have higher rates than the EU, investors would be more apt to sow their money into America. In general, higher interest rate environments offer higher returns. In order to invest, one needs local currency. Thus increasing demand for the U.S. dollar and pushing up its value. Which is exactly what the market saw today.
Divergence between Fed and ECB monetary policy in focus
Meanwhile, the European Central Bank (ECB) is sticking to a very cautious approach to its monetary policy. And, given the lack of economic data today, investors were left dwelling on the gap between the U.S. and eurozone monetary policies. Although the eurozone has been pumping out continually improving data in the form of strong economic growth, healthy employment levels and an inflation level which is starting to tick up, the ECB President Mario Draghi has said that he sees no reason to deviate from the current policy. On a day with little else to contemplate, these comments are affecting sentiment.

This publication is provided for general information purposes only and is not intended to cover every aspect of the topics with which it deals. It is not intended to amount to advice on which you should rely. You must obtain professional or specialist advice before taking, or refraining from, any action on the basis of the content in this publication. The information in this publication does not constitute legal, tax or other professional advice from TransferWise Inc., Currency Live or its affiliates. Prior results do not guarantee a similar outcome. We make no representations, warranties or guarantees, whether express or implied, that the content in the publication is accurate, complete or up to date. Consult our risk warning page for more details.
This article was initially published on TransferWise.com from the same author. The content at Currency Live is the sole opinion of the authors and in no way reflects the views of TransferWise Inc.