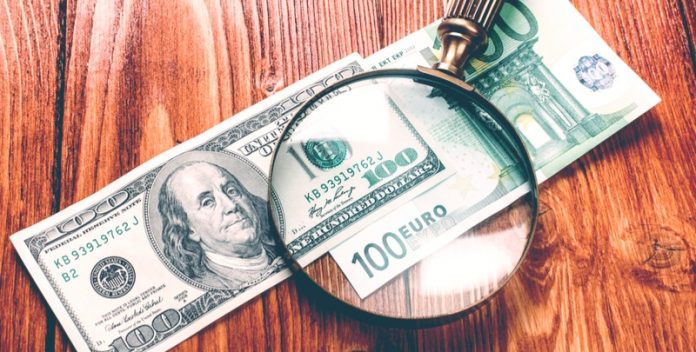 The euro US dollar exchange rate strengthened on Monday, as demand for the euro pushed the rate back up to a 6 month high versus the US dollar. The euro hit a high of $1.1246 after having declined as much as 0.4% to $1.1620 earlier in the session.
The increased demand for the euro came after a comment from German Chancellor Angela Merkel that the euro was "too weak", for which she blamed the European Central Bank. These comments have spurred speculation that German officials will push the European Central Bank harder to raise interest rates, which have been historically low since the financial crisis in 2008.
Interest rates are a key determinant of short-term exchange rate movements. If interest rates or interest rate expectations in the eurozone are relatively higher than other countries, it'll make the region more attractive for investors to save and invest money. This will cause 'money flows' into the eurozone, increasing demand for the euro and increasing its value.
Trump concerns still hitting dollar
Meanwhile, the dollar slipped lower versus almost all of its major peers, to levels not seen since 9th November. The dollar's broad declines are a combination of two factors. Firstly, economic data has been coming in slightly off expectations, given that investors want to put their money into countries where growth prospects are strong. Slightly weaker data will encourage investors to sell out of US investment, increasing the supply of dollars which will weigh on the value of the dollar.
Secondly, an unstable political climate in Washington is making any inflation boosting, bold economic reforms from the Trump's administration increasingly unlikely, given that Trump is too distracted lurching from crisis to crisis. Without these inflation boosting reforms, expectations for interest rate hikes are decreasing which is also pulling the dollar lower in value.
Why does this matter?
Interest rates rule the Forex market. Currencies representing economies with higher interest rates tend to be stronger than currencies representing economies with lower interest rates. Investors are always looking for the greatest return as possible on their investments, and economies with higher interest rates usually have higher yields on their investments. When interest rate expectations fall, investors look to invest elsewhere, selling out of the local currency and increasing its supply, so decreasing its value.

This publication is provided for general information purposes only and is not intended to cover every aspect of the topics with which it deals. It is not intended to amount to advice on which you should rely. You must obtain professional or specialist advice before taking, or refraining from, any action on the basis of the content in this publication. The information in this publication does not constitute legal, tax or other professional advice from TransferWise Inc., Currency Live or its affiliates. Prior results do not guarantee a similar outcome. We make no representations, warranties or guarantees, whether express or implied, that the content in the publication is accurate, complete or up to date. Consult our risk warning page for more details.
This article was initially published on TransferWise.com from the same author. The content at Currency Live is the sole opinion of the authors and in no way reflects the views of TransferWise Inc.