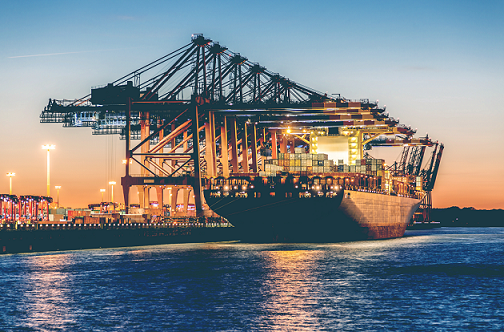 As the dust settles on the French Presidential election results, the pound euro exchange rate climbed firmly higher, heading intently to a 10-day high of 1.19. Despite eurozone political distractions now being put to one side, the euro continues to slide as the focus shifts back to upcoming central bank meetings and economic data.
German trade balance surplus data breaks records
The euro is so set in its post Macron, profit-taking sell-off, even record breaking data from Germany failed to reverse the fortunes of the single currency. Germany's trade balance data showed the European powerhouse exported goods worth EUR 118.2 billion in March, and imported goods worth EUR 92.9 billion, both the highest figures ever recorded. The trade balance surplus (the difference between exports and imports) came in at an impressive EUR 25.4 billion.
However, these record figures could potentially cause some embarrassment for Germany who only recently fought off accusations by President Trump's trade advisor, Peter Narro, who accused Germany of using a grossly undervalued currency to exploit the US and its EU partners. These figures are likely to spark further criticism of the level of the single currency, pointing to claims that Germany is benefiting from the low value of the euro.
Yet despite the record breaking data, the euro continued moving lower.
BRC retail data provides a boost for sterling on an otherwise quiet day
On the other side of the equation, Brexit developments have been thin on the ground and there has been a lack of influential UK data published so far this week, with investors focusing mainly on the BoE's quarterly inflation report due on Thursday, with a more hawkish stance expected, which has already provided a boost to the pound.
Data wise, the pound did receive a leg up from the British Retail Consortium (BRC) retail sales report, which showed a higher than expected increase in sales in April. Under normal circumstances such a report wouldn't be expected to have much of an impact. Yet amid growing concerns of households tightening their belts and spending less, the data was well received and boosted confidence in the economy. This resulting in an increase in the pound euro exchange rate from 1.1840 pre-release to 1.1872 post.

This publication is provided for general information purposes only and is not intended to cover every aspect of the topics with which it deals. It is not intended to amount to advice on which you should rely. You must obtain professional or specialist advice before taking, or refraining from, any action on the basis of the content in this publication. The information in this publication does not constitute legal, tax or other professional advice from TransferWise Inc., Currency Live or its affiliates. Prior results do not guarantee a similar outcome. We make no representations, warranties or guarantees, whether express or implied, that the content in the publication is accurate, complete or up to date. Consult our risk warning page for more details.
This article was initially published on TransferWise.com from the same author. The content at Currency Live is the sole opinion of the authors and in no way reflects the views of TransferWise Inc.