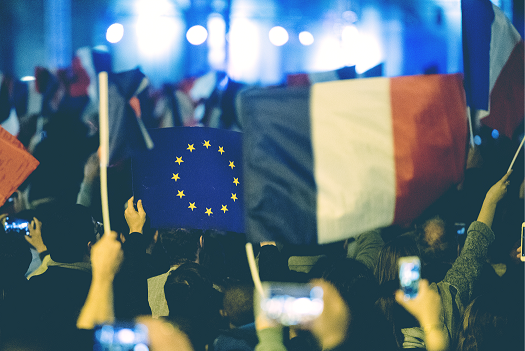 Post-election Monday,the euro took a downturn, after pre-emptive buying following Macron's victory in the first round, turned the final event into a classic example of buy the rumour and sell the fact. The pound euro exchange rate picked up from a low of 1.1794, an initial reaction to the result of the French Presidential elections, to reach a session high of 1.1840.
There was no great surprise in Macron's victory, as it had been expected and yet the continued weakening of the euro against sterling can be attributed to a certain level of uncertainty that comes with a change of leadership, which will naturally weigh on the currency, as questions over how the new leader will perform and what changes will be implemented start to surface. With the French elections now safely behind, attention has quickly shifted towards the long list of issues that the new President elect will have to contend with on taking up his role. The first of these will be Parliamentary elections in June, it is worth remembering that a President is only strong if they have the majority support in Parliament, so a period of political manoeuvring and deal making will be vital to Macron over the coming weeks in order for him to win the seats that he needs to be able to push any of his reforms through.
Euro Down but can recover
The other problem for the euro is that although far right LePen, who made no secret of her desire to withdraw France from the EU, conceded in Sunday's elections, she still remains a force to be reckoned with within the French political arena. In her concession speech LePen vowed to transform her National Front party into a new political movement and "lead the fight" in June's parliamentary elections. LePen has been quite clear that this certainly is not the last we will see of her and her strong support of some 11million French people could mean that Macron has just five years to turn France around.
Looking towards the future
The focus can now switch away from politics and back towards central banks and economic data. The release of Germany's trade balance on Tuesday is expected to show the trade surplus continued to grow in March, which could provide a boost to the euro.

This publication is provided for general information purposes only and is not intended to cover every aspect of the topics with which it deals. It is not intended to amount to advice on which you should rely. You must obtain professional or specialist advice before taking, or refraining from, any action on the basis of the content in this publication. The information in this publication does not constitute legal, tax or other professional advice from TransferWise Inc., Currency Live or its affiliates. Prior results do not guarantee a similar outcome. We make no representations, warranties or guarantees, whether express or implied, that the content in the publication is accurate, complete or up to date. Consult our risk warning page for more details.
This article was initially published on TransferWise.com from the same author. The content at Currency Live is the sole opinion of the authors and in no way reflects the views of TransferWise Inc.