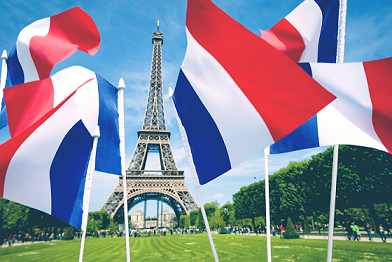 Sunday evening saw the French race for the Presidency draw to a close. As expected, the pro-euro centrist candidate, Emmanuel Macron, was projected to become the new President elect of France, beating his rival, eurosceptic, leader of the National Front party, Marine LePen by a comfortable lead. Macron's landslide victory has been hailed by some as a vote of confidence for European unity with now a 0% risk of France exiting either the EU or the eurozone over the next five years.
Exit polls on Sunday evening are pointing towards Macron beating LePen who had openly voiced her desire to leave the EU, by approximately 30 points, putting Macron at close to 65%, compared to LePen's 35%.
No significant EUR value increase, despite Macron's success
In sharp contrast to the aftermath of the first round of voting last weekend, which saw the euro surge in a relief rally, the single currency's reaction was rather muted as the second and final round results poured in. Following his first-round victory, an overall Macron victory was quickly almost fully priced in. Furthermore, whilst his win was clearly substantial, it was also very close to what the polls had been pointing to prior to balloting, so the unsurprising outcome provoked little reaction.
The battle is just beginning for Macron
With these elections done and the future of the EU and the euro looking much more secure, eyes will now turn to the National Assembly elections in June. Macron was needing a win of over 55% in these elections in order for his party En Marche! to stand a chance of winning seats in parliamentary election, seats which Macron will need in order for his pro-growth, pro-employment economic reforms to become a reality.
Dollar remains buoyant following Friday's jobs report
The euro initially jumped versus the dollar to above 1.1010, a six-month high, however the single currency was unable to sustain its strength against the dollar, quickly moving back below 1.0980. Following a strong US jobs report on Friday, with improvements seen across most employment categories and with average earnings also on the up, the dollar is remaining buoyant versus the euro and expectations for a June interest rate hike by the Federal Reserve remain intact.

This publication is provided for general information purposes only and is not intended to cover every aspect of the topics with which it deals. It is not intended to amount to advice on which you should rely. You must obtain professional or specialist advice before taking, or refraining from, any action on the basis of the content in this publication. The information in this publication does not constitute legal, tax or other professional advice from TransferWise Inc., Currency Live or its affiliates. Prior results do not guarantee a similar outcome. We make no representations, warranties or guarantees, whether express or implied, that the content in the publication is accurate, complete or up to date. Consult our risk warning page for more details.
This article was initially published on TransferWise.com from the same author. The content at Currency Live is the sole opinion of the authors and in no way reflects the views of TransferWise Inc.