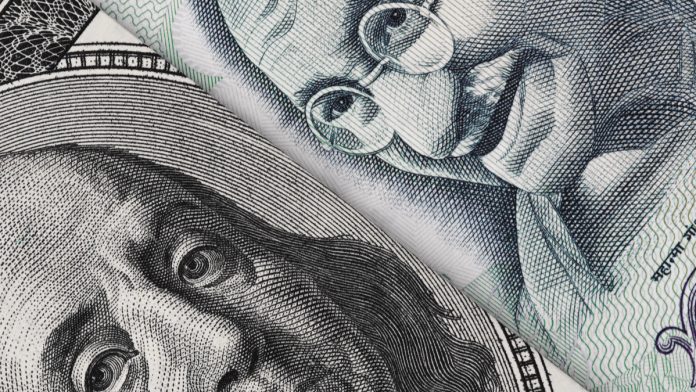 Indian Rupee (INR) falls after four days of gains
Oil rises 7% this week
US Dollar (USD) rises after a strong jobs report
Pressure remains on the Fed to act aggressively
The US Dollar Indian Rupee (USD/INR) exchange rate is rising on Friday, snapping a 4-day falling streak.  The pair fell -0.26% yesterday, settling at 81.16. Today, at 16:00, USD/INR trades +0.33% at 81.43, trading in a range between 81.08 to 81.52. The pair is set to lose -0.34% across the week.
According to the Reserve Bank of India, India's foreign exchange reserves rose for a third straight week to $550.14 billion, up from $547.25 billion. India's forex reserves have been rising since the dollar fell off its peak and after hitting a two-year low of $524 billion in October.
Rising oil prices could cap gains in the rupiah. West Texas Intermediate this rising for a fifth straight day. oil is set to rise almost 8% across the week. OPEC will meet to discuss oil production on Sunday. The oil cartel is not expected to cut output.
The US Dollar is rising across the board. The US Dollar Index, which measures the greenback versus a basket of major currencies, trades at +0.3% at the time of writing at 105.02 after two days of losses. The USD index is set to fall 1% across the week.
The US dollar rebounded from daily lows jumping into positive territory after the release of the non-farm payroll report. The closely watched jobs report showed that 263,000 jobs were added in November, well ahead of the 200,000 forecast. The October headline figures was also upwardly revised to 283,000 from 261,000.
The unemployment rate came in at 3.7% expectations had been for a rise to 3.8%. Meanwhile, average hourly wages jumped to 5.1% year on year, defying expectations of a full to 4.6% average hourly wages rose 4.9% in October.
The strong labour market and particularly the surge in hourly wage growth means that pressure remains on the US federal reserve to keep hiking interest rates. Following the data, treasury yields surged as investors priced in a more aggressive Fed. These figures suggest that the US labour market is still too tight and is only cooling slowly.
---