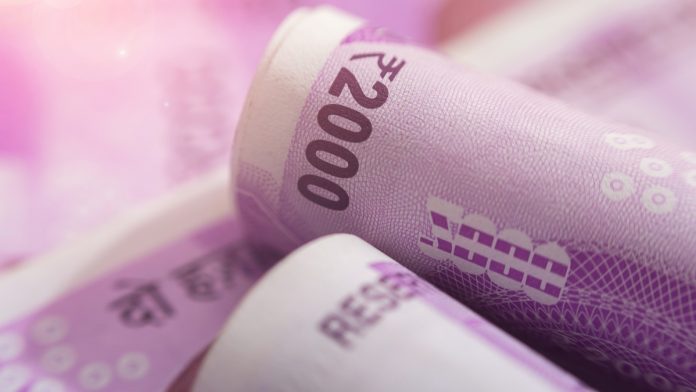 Indian Rupee (INR) rises as oil falls by $5
India GDP downwardly revised
US Dollar (USD) falls after jobless claims falls
US PMI data due tomorrow
The US Dollar Indian Rupee (USD/INR) exchange rate is falling on Thursday paring gains from the previous session. The pair gained 0.16% yesterday settling on Wednesday at 79.98 after trading a range 79.87 to 80.06. At 15:00 UTC, USD/INR trades -0.17% at 79.84.
The Rupee is pushing higher on Thursday, helped by falling oil prices. Oil has tumbled by $5 as gasoline inventories rise by 3.5 million barrels raising questions over demand.
Separately the Federation of Indian Chambers of Commerce and Industry in its quarterly survey said that it expects economic growth of 7% in 2022/23, slower than the previously expected 7.4% and the central bank's 7.2% forecast. They added that the war in Ukraine is like to keep inflation high and hurt consumer demand.
The Reserve Bank of India is expected to remain hawkish to fight surging inflation in the country.
The US Dollar is falling across the board. The US Dollar Index, which measures the greenback versus a basket of major currencies, trades -0.12% at the time of writing at 106.92 after rising 0.4% in the previous session.
The US dollar is falling after US jobless claims indicated that weakness is creeping into the US labour market. US jobless claims rose unexpectedly to 251,000, up from 244,000 the previous week and well over 240,000 forecast. This is the highest level in eight months.
The data comes after US corporates have said that they are cutting jobs. Yesterday Ford announced that it was cutting 8000 jobs in a bid to cut spiraling costs. Earlier in the week Apple, Google, Microsoft, and Lyft said they were implementing a hiring freeze, which doesn't bode well for the outlook.
There is no more high-impacting US data due to be released today. Investors will look ahead to the release of PMI data due tomorrow.
---