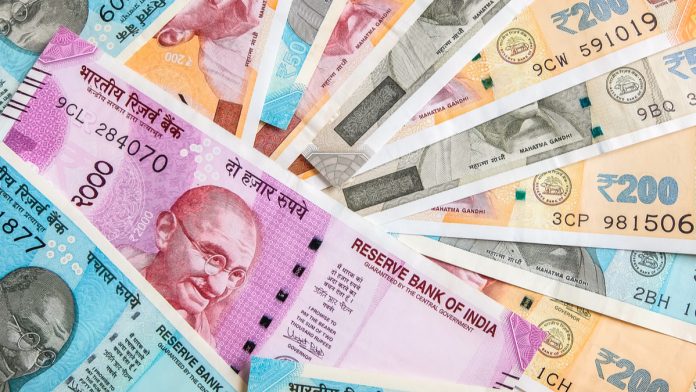 Indian Rupee (INR) rises as inflation rises
Oil prices rise boosting inflation expectations
US Dollar (USD) falls on safe-haven flows
USD looks ahead to Fed rate decision
The US Dollar Indian Rupee (USD/INR) exchange rate is heading lower on Monday paring gains from the previous week. The pair gained 0.1% last week settling on Friday at 76.48. At 14;30 UTC, USD/INR trades -0.06% at 76.43.
India's retail inflation jumped in February, remaining above the Reserve Bank of India's 6% upper tolerance limit for a second straight month. Consumer prices rose 6.07% year on year in February, lifted by the rising cost of food, fuel, and household items, this was up from 6.01% in January. Analysts had forecast inflation would ease slightly to 5.93%, within the central banks 2% – 6% tolerance band.
Energy prices have continued to rise in March, up around 15% as Russia invaded Ukraine. This, in addition to the depreciation of the Rupee, could fuel inflation higher.
Even so, the RBI is not expected to hike interest rates despite the high inflation, instead of seeing the need to support the economy as the priority. The RBI is next meeting on April 6 – 8 and monetary policy is not expected to change.
The US Dollar is falling across the board. The US Dollar Index, which measures the greenback versus a basket of major currencies trades -0.3% at the time of writing at 98.83 paring gains from the previous session.
The US dollar is coming under pressure as risk sentiment improves. Optimism surrounding peace talks between Russia and Ukraine which take place today is helping drive demand for riskier assets and currencies whilst hurting demand for the safe-haven US dollar. US stocks on the S&P500 are trading around 1% higher.
Still, the USD could find that losses are limited as US treasury yields shoot higher as inflation expectations build ahead of the Fed's monetary policy meeting on Wednesday. The Fed is expected to increase interest rates by 25 basis points for the first time since the start of the pandemic.
---