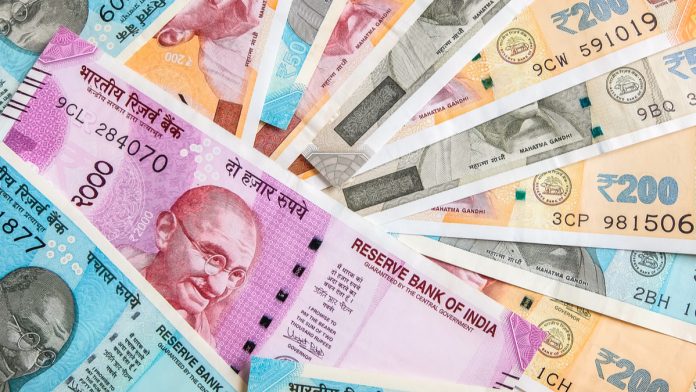 Indian Rupee (INR) extends gains
RBI FCA reserves rise
US Dollar (USD) edges lower after mild gains versus majors last week
US Fed Chair Powell to speak
The US Dollar Indian Rupee (USD/INR) exchange rate is heading lower on Monday, extending losses from last week. The pair lost -0.99% across the previous week settling on Friday at 74.17, its fourth straight week of declines. At 10:00 UTC, USD/INR trades -0.23% at 73.99 a 6-week low.
The Rupee was strengthening on Monday despite domestic equities heading lower and oil prices rising.
Data on Friday revealed that Reserve Bank of India foreign exchange reserves rose by nearly $2 billion on foreign currency assets reaching $642.019 billion. This comes after a decline by |$808 million in the previous week. Following this latest boost overall reserves are just shy of the record level of $642.453 reached in the week ending September 3rd.
Higher reserves offer support, stabilizing the currency and are a cushion in the case of an economic crisis. A rise in reserves often boosts confidence that the country can meet its external obligations.
The US Dollar is trading lower across the board. The US Dollar Index, which measures the greenback versus a basket of major currencies trades -0.09% at the time of writing at 94.23 after rising 0.2% across the previous week.
The US Dollar gained ground last week after the Fed started tapering monthly bond purchases. However, gains were limited as the Fed also said that it was in no rush to start hiking interest rates.
The closely watched US non-farm payroll report was encouraging with 531,000 jobs added in October, ahead of the 425,000 forecast. September's number was also upwardly revised to 312,000 from 194,000. The data suggests that the recovery in the US labour market continues, but not at a strong enough pace to warrant a sooner rate rise by the Fed.
There is no high impacting US labour market data due to be released today. Investors will instead be listening closely to a speech by Fed Chair Powell to see if he brings more clarity to when the Fed could start to hike interest rates.
---