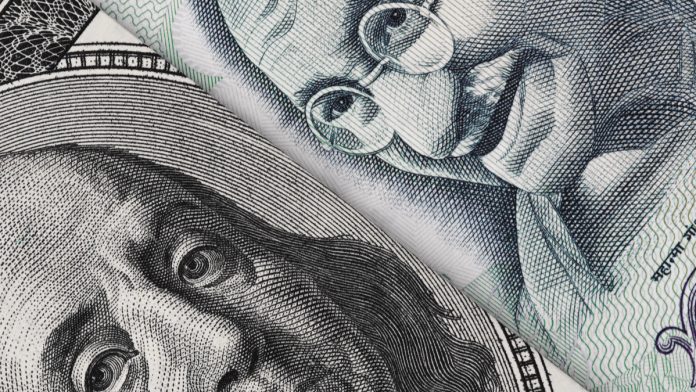 Indian Rupee (INR) under pressure in risk off trading, safe haven US Dollar (USD) rises
President Trump tests positive for covid
US unemployment rate falls to 7.9%
Indian trade deficit -19.6% YoY in September
The US Dollar Indian Rupee (USD/INR) exchange rate is advancing on Friday paring some losses from the previous session. The pair settled -0.5% lower at 73.19 on Thursday. At 12:15 UTC, USD/INR trades +0.2% at 73.34. Heading towards the weekend, the pair is looking at losses of -0.4% across the week but gains of 0.4% across the month of September.
The Indian Rupee is under pressure as risk off trading dominates. News that President Trump has tested positive for COVID -19 has resulted investors selling out of riskier stocks and currencies such as the Indian Rupee, preferring to move funds into safe havens like the US Dollar.
Currently the President is doing well. However, at 74 years old the President is in a higher risk category. President Trump is continuing to carry out Presidential duties in quarantine. However, the main concern for the market is what this could mean for the Presidential Elections. There were already many uncertainties surrounding these elections which were highlighted earlier in the week when Trump refused to say whether he would accept the results to the election.
The US non-farm payrolls showed that 661,00 US jobs were created in September. This was significantly less than the 850,000 that analysts had forecast. However, the unemployment rate fell to 7.9%, down from 8.4% in August. This was better than the 8.2% expected.
According to the Indian government, India recorded a trade deficit of $2.91 billion in September. Imports contracted 19.6% in September compared to a year ago, to $30.31 billion. Exports rose 5.27% to $27.40 billion.
Falling oil pries are offering some support to the Indian Rupee. West Texas Intermediate trades -4% at $37.10 amid fears over future demand. The fact that US Congress has failed to agree to additional stimulus suggests that the economic recovery in the US will be slower.
---