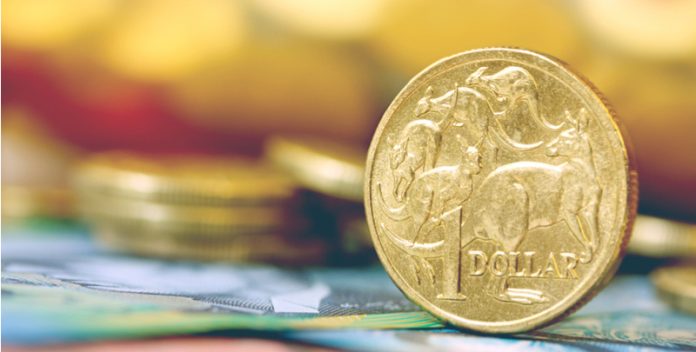 Risk sensitive Australian Dollar (AUD) rallies after US ADP Payrolls smash expectations
ADP beat bodes well for Friday's non-farm payroll data
US Dollar (USD) started higher on risk off flows after disappointing Trump – Biden debate
Manufacturing data in focus
The Australian Dollar US Dollar (AUD/USD) exchange rate is rallying higher on Wednesday, extending gains for a third straight session. The pair settled on Tuesday +0.8% at US$0.7127. At 14:45 UTC, AUD/USD trades +0.4% at US$0.7153.
Upbeat US data is boosting the risk sensitive Australian Dollar, in a sign that the US economy is fairing slightly better than initially feared. Companies added a better than forecast 749,000 jobs in September, better than the 650,000 than analysts had pencilled in and well above the 428,000 added last month.  A surge in manufacturing hires, +130,000, helped boost the number of people employed in the US, whilst the data shows that the hospitality sector which was hard hit in the pandemic saw a gain of 92,000.
The data comes ahead of the closely watched non-farm payroll report which is expected to show that 800,000 new jobs were created in the US in September, down from Augusts 1.37 million. The unemployment rate is expected to fall to 8.2%.
US GDP data added to the upbeat mood, US GDP Q2 final reading was slightly better than the earlier reading of at -31.4% against a previous 31.7%. This was still a record braking contraction; however, economists expect the economy to soar 30% in the current quarter as businesses reopen an millions go back to work. The Q3 GDP will not be released until October 29.
The US Dollar had started the day on higher ground in risk off trading following a disappointing Trump – Biden Presidential Election debate. The lack of substance from either candidate and Trump's refusal to say whether he will accept the final outcome unnerved investors. However, the strong data has seen the USD reverse its fortunes.
Looking ahead, Australian and US manufacturing PMI data will be in focus. The expectation is that manufacturing will continue to expand at a strong pace in both the US and Australia.
---