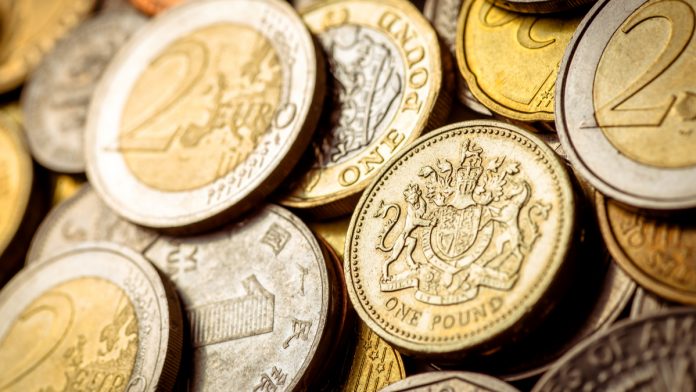 The British pound is higher against the euro on Friday.
GBP/EUR reaches highest since mid-June
Sterling turns positive year-to-date versus dollar (GBP/USD)
Month-end fixing flows appear to benefit the pound
Merkel warns Germans to take coronavirus seriously in public address
BOE Governor Bailey speaks at Jackson Hole Symposium
GBP/EUR was higher by 46 pips (+0.43%) to 1.1212 as of 5pm GMT.
The currency pair dropped early on to test 1.115 but rallied thereafter, taking the exchange rate back over the 1.12 figure to a 10-week high.
GBP: Pound sees end of month gains
End of month fixing flows, whereby big corporations adjust their currency hedges and portfolio managers change allocations to foreign securities were driving some extra movement in currencies today, especially in the pound ahead of the long bank holiday weekend.
The British currency jumped to a 10-week high over the euro before the UK begins its long August bank holiday weekend. London is the global centre for currency trading and British traders and bankers will be in light numbers on Monday because of the Bank holiday.
More broadly markets were still reacting to the speech given by Fed Chair Jerome Powell introducing a new policy towards inflation targeting. The dollar bounced after the speech but has tended lower again on Friday. EUR/USD moved up above 1.19 again while GBP/USD made fresh eight-month highs in a push above 1.33. Today the Bank of England governor Andrew Bailey gave a talk at the symposium.
EUR: Merkel coronavirus warning weighs on euro
The euro gained over the dollar but a warning from German Chancellor Angela Merkel that the coronavirus pandemic is set to get worse may have weighed on the currency's prospects versus the pound.
Merkel told Germans to take the coronavirus seriously and said thing won't return to normal until there is a vaccine. She alos noted that Germany will received around 22 billion euros from the EU recovery fund and will spend most of it on existing programs.
---