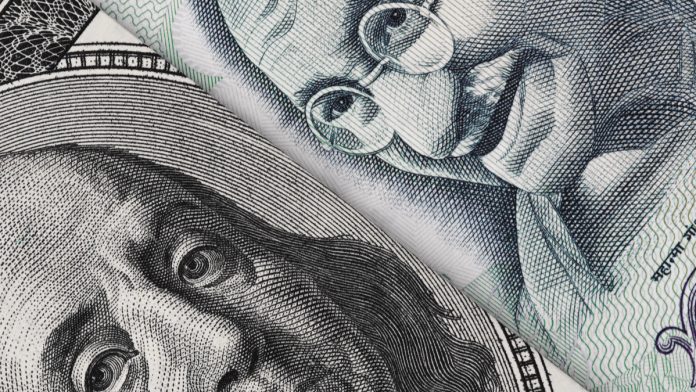 Indian GDP expected to remain weak across the year with no quarters recording growth
Moody's expect 6.9% GDP growth in 2021
US Dollar (USD) investors look towards Jerome Powell's speech tomorrow for policy clues
US durable goods expected to continue rebounding
The US Dollar Indian Rupee exchange rate is trading mildly higher for a second straight session. The pair settled on Tuesday +0.05% at 74.20. At 10:15 UTC, USD/INR trades +0.1% at 74.26.
Nomura investment bank warned that India was likely to sees its deepest economic downturn during the April – June period this year, at -15.2%. Nomura also warned that it does not expect India to achieve economic growth in any quarter this fiscal year. After a -15.2% contraction, Nomura is forecasting a -3% contraction in the following quarter.
Nomura pointed to improving conditions in July, however the recovery is uneven. Aggregate supply has reached around 82% of pre-pandemic levels whilst demand stands significantly lower at just 62% of pre-pandemic levels.
Demand has experienced a deeper hit because consumers remain very cautious given the rising income uncertainty.
Looking ahead the picture is more optimistic according to Moody's rating agency, which projects the Indian economy will grow by 6.9% in 2021.  This comes after the Indian economy grew at its slowest pace in 11 years in 2019-20.
Whilst Moody's believe that the economic recovery in India is underway, the rating agency also highlighted that its continuation will be closely tied to the containment of coronavirus.
The US Dollar is trading higher across the board, as investor wait for a speech by Federal Reserve Chair Jerome Powell tomorrow for a snapshot of the central banks plans to revive the coronavirus hit economy.
Investors are expecting Jerome Powell to detail a set of measures aimed at boosting inflation higher.
Prior to Jerome Powell, investors are bracing themselves for a strong durable goods reading today. Analysts forecast purchases of long-lasting consumer goods to remain solid in July, increasing 2% as the rebound continues from March and April lows. This would be a slight decline from the 3.3% increase in the previous month.
---