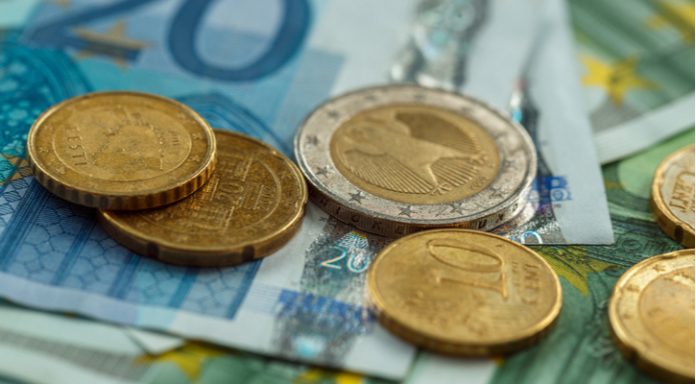 The euro is higher against the US dollar on Thursday.
Dollar gives back some gains from post Fed minutes jump
ECB meeting accounts show some ECB members dissented on PEPP envelope as a target
US jobless claims rise to over 1 million in past week
Euro-area services and manufacturing August PMIs out Friday
EUR/USD was up by 20 pips (+0.16%) to 1.1856 as of 5pm GMT. The euro-dollar exchange rate is still just holding onto a weekly gain of +0.13%.
The currency pair traded in a thin range between 1.18 and 1.185 for most of Thursday. Yesterday it dropped -0.78%.
EUR: ECB minutes give euro a small boost
In the accounts of its July meeting, the ECB made some reference to the full use of the PEPP envelope that helped lift the euro. At the last meeting there were no changes to policy but the ECB did surprisingly say that it will use the full size of its PEPP program, effectively making the 1.35 trillion euros of asset purchases a target. In the minutes, some members suggested that since the economic data had been better than expected, that the total size of asset purchases should be a ceiling, rather than something that had to be achieved.
On the economic data front, German producer prices topped expectations with a 0.2% month-over-month gain and a surprise fall in yearly deflation to -1.7% when -1.8% was expected. Tomorrow sees the release of August services and manufacturing PMIs, which are expected to show a slowdown from July .
USD: Dollar steadies even as August data softens
The US dollar gave back some of yesterday's gains but was little changed after US economic data came in softer than economists had forecast. After such a long period of weakness, markets are in two minds whether the dollar rebound was a short-term blip or the beginning of something more long-lasting.
US initial jobless claims rose back over the 1 million threshold at 1,106,000 when a reading of 920,000 was expected, however continuing jobless claims dropped below 15 million at 14,844,000.
The Philadelphia Fed business outlook survey showed its business activity index fall to 17.2 versus 24.1 last month.
---