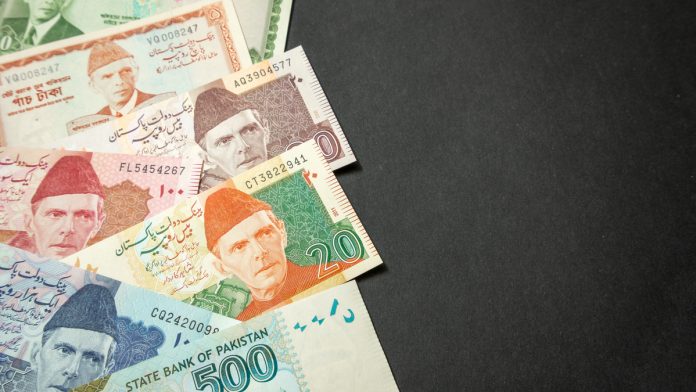 Pakistani Rupee continues to hover close to its all time low
Large scale manufacturing contracts for a second consecutive year
US Dollar (USD) trades lower versus major peers as additional stimulus hopes fades
US initial jobless clams to show 1.12 million Americans signed up for unemployment benefits last week
After two consecutive days of declines, the US Dollar Pakistani Rupee (USD/PKR) exchange rate is advancing on Thursday. The pair settled on Wednesday -0.24% at 167.50. At 09:15 UTC, USD/PKR trades +0.5% at 168.35, slightly down from the high of the day of 168.50.
According to the Pakistan Bureau of Statistics, Pakistan's large-scale industrial sector shrank -10.2% in the previous fiscal year compared to the year prior. This was a steeper decline than what the government estimated. The Ministry of Finance had forecast a -7.8% contraction.
On the basis of a -7.8% decline, the government had also forecast a -0.4% contraction in the overall economy in the fiscal year ending in June. This means that the actual contraction could be steeper.
This is the second consecutive year that large scale industry contracted. In the fiscal year 2018-19 the sector shrank -2.6%, showing that problems in the sector existed even before the coronvirus outbreak. This highlights the challenges that the Pakistan economy faces in its recovery.
The US Dollar is trading lower versus its major peers as investors grow nervous over the likelihood of Congress agreeing to additional US stimulus. Republicans and Democrats remains a good distance apart in negotiations. With 16 million Americans without a job, fears are rising that the US economic recovery will stall without additional economic support. The longer that the impasse continues the more damage that the US economy will experience.
Attention will now turn to US jobless claims data. Initial jobless claims increased 10% mid – July amid fears that surging coronavirus cases in the southern US states and the roll back of reopening measures were hampering the labour market recovery. However, this was followed by a 17% fall in employment claims last week. Today, analyst are expecting initial jobless claims to edge down to the lowest level since the pandemic started at 1.12 million. Last week 1.18 million Americans signed up for unemployment benefits.
---