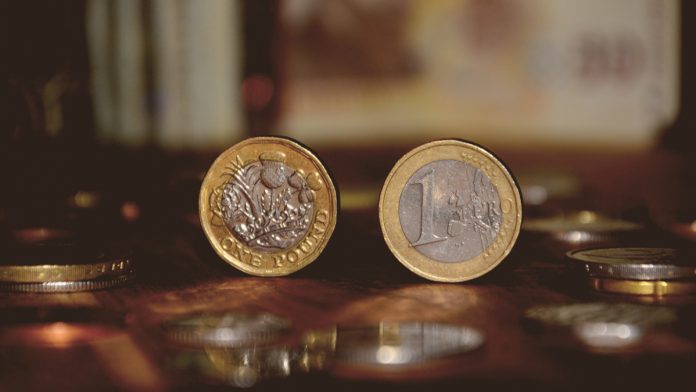 The British pound is lower against the euro on Wednesday.
United Kingdom enters recession
UK GDP crashes 20.4% GDP in second quarter but grows in June
European shares rise for 4th day as earnings top expectations
German health minister questions Russia's vaccine
GBP/EUR was lower by 52 pips (-0.46%) to 1.1060 as of 3pm GMT. The pound-euro exchange rate is lower by -0.18% this week.
After having held 1.11 for the start of the week, the currency pair dropped back below 1.105 before finding a base. Yesterday it had fallen -0.18%.
GBP: UK enters recession in Q2
The British currency initially shrugged off the record quarterly decline in output since the result pretty much landed on the nose of expectations (20.4% vs. 20.2%). As the day went on Sterling began to fall out of favour- perhaps as investors dug into the internals of the report and questioned the sustainability of the currency's strength with such economic problems.
The economic contraction was concentrated in April and May, with output actually rising by 8.8% in June as the economy reopened.
A lot of comparisons have be drawn between the UK Q2 GDP figures and the rest of Europe, perhaps unfairly because the timeline of the UK experience was later. The UK went into lockdown later and came out of it later, meaning the economic decline was concentrated into Q2 rather than spread between Q1 and Q2.
There is a case to be made that the UK should have entered lockdown earlier in order to lessen the health crisis- but it's less clear if that had a direct economic consequence. The duration of the UK lockdown is similar to those on the continent.
EUR: Euro rises with European stocks up for 4th day.
More broadly across markets there is a rising confidence that coronavirus vaccines will be available by the end of this year. European shares have been given an extra boost from rising yields, which are bolstering bank stocks.
Scepticism remains from other global health officials about Russia's coronavirus vaccine- though it would seem markets are not swayed by the same mix of genuine health and political factors driving the criticism. German health minister Spahn said he was "very sceptical".
---