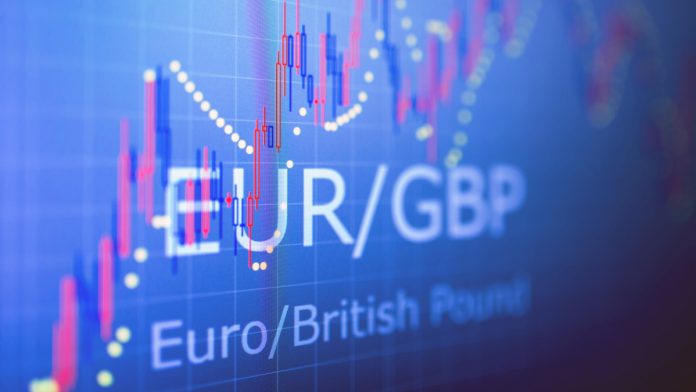 The British pound is higher against the euro on Tuesday.
Pound bolstered after UK retail data smashes expectations
Gold / silver volatility spills into FX markets
RKI warns about rising German coronavirus cases
ECB says no more bank dividends or buybacks until EOY
GBP/EUR was higher by 75 pips (+0.67%) to 1.1035 as of 3pm GMT. This week the pound-euro exchange rate is higher by +0.56%
The currency pair had been sideways near 1.095 but shot up to beyond 1.10 and short of 1.105. Yesterday it fell -0.12%.
GBP: Pound snaps 5-day losing streak
Sterling was on course to snap a 5-day losing streak by Tuesday afternoon thanks in large part to better UK economic data- as well as pullback in the euro versus the dollar.
July CBI retail data smashed expectations- coming in at +4 instead of the -25 expected. Survey data can turn quickly but the results are a positive sign that the re-opening of the economy is seeing business owners feel better about the return to a more normal level of economic activity.
Big swings in precious metals markets after gold hit a record high saw some reverberations across forex markets – with higher than usual volatility in the first day of a two-day Federal Reserve Meeting.
EUR: RKI warns about higher Germany virus cases
Higher virus cases in Germany – Europe's growth engine – as well as other countries including Spain weighed on the euro. UK Prime Minister Boris Johnson defended his government's decision to impose a surprise 14-day quarantine requirement on returning travellers from Spain, the UK's favourite travel hotspot, saying he sees signs of second virus wave in some other European countries.
Germany's RKI reported 633 new virus cases and another 4 deaths and warned that the rise in virus cases is now not so localised as it is affecting many states.
There was a slight blow for overseas investment funds flowing into Europe after the ECB confirmed it would extend its ban on European banks paying dividends and buying back stock until the end of te year.
---