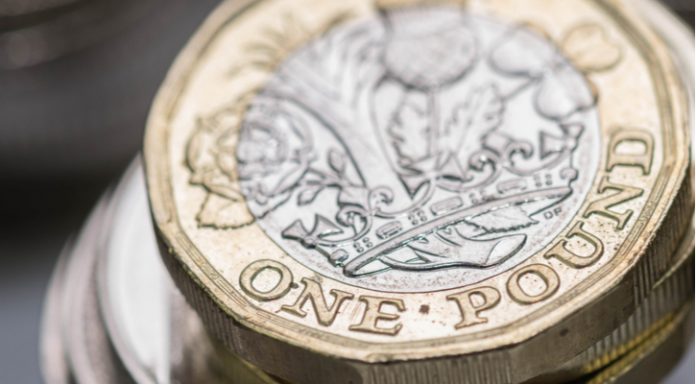 UK consumer confidence remains depressed dragging on the Pound (GBP)
UK retail sales and service sector and manufacturing sector PMI reading are expected to show the continued recovery of the UK economy
Euro (EUR) has outperformed across the week after EU leaders agreed stimulus
PMI data is expected to show a recovery in the bloc's economy
The Pound Euro (GBP/EUR) exchange rate is extending losses for a fourth consecutive day. The pair settled lower on Thursday -0.2% at €1.0988, after picking up from the session low of €1.0959. At 05:15 UTC, GBP/EUR trades -0.1% at €1.0970.
UK consumer confidence stayed weak in July as the British government prepares to start easing back on the job retention support programme. According to the GFK survey, sentiment improved mildly from June but remained unchanged from two weeks ago at -27. Analysts had been expecting -26.
Consumer sentiment is important because it measures consumers willingness to purchase larger items; a more confident consumer spends more.
Attention will now turn towards UK retail sales and PMI readings for both the manufacturing sector and the dominant service sector.
Retail sales are expected to show an 8% month on month jump in June, following a 12% surge in May as the UK economy continues to reopen. Clothing is likely to add to a strong retail sales reading as it was mid-June when non-essential retailers reopened.
Meanwhile both the service sector and manufacturing sector are expected to have moved back into the expansion zone as the UK economic recovery continues.
Strong data could go some way to diverting investors attention away from Brexit gloom.
The Euro is without a doubt the best performing currency right now. The Euro's recent boost in popularity after EU leaders put their difference aside and agreed on a big EU stimulus package which sends a strong message to the market and will go some way to cushioning the impact of the coronavirus crisis on the bloc's economy.
The Euro has also been benefiting from broadly upbeat economic data. Yesterday data showed that German consumer confidence surged, and that Germans were ready to spend going into August.
Today investors expect Eurozone PMI data to show a continued improvement with the service sector and the manufacturing sector in the bloc expected to have pushed into expansion territory. Upbeat data could boost the common currency higher.
---