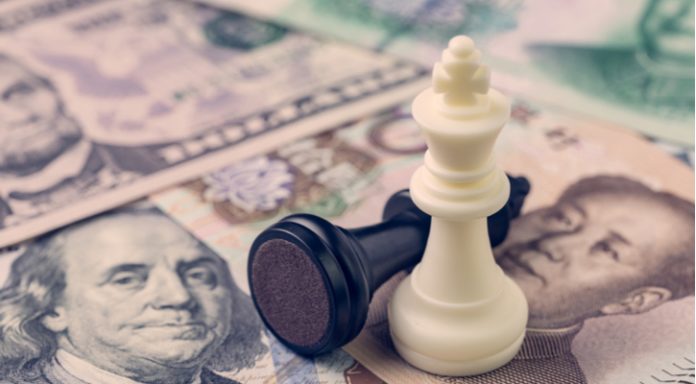 Perceived riskier Australian Dollar (AUD) picks up off session lows as risk sentiment recovers
US-Chinese tensions and Fed covid-19 concerns are shrugged off as the Nasdaq surges to fresh all-time highs
US jobless claims in focus tomorrow
Australian Dollar US Dollar (AUD/USD) exchange rate targets US$0.70
The Australian Dollar US Dollar exchange rate has rebounded firmly off session lows of US$0.6922 to trade at session highs of US$0.6975. AUD/USD is paring losses from the previous session and has rallied for the past seven sessions in eight.
Risk sentiment performed a strong reversal on Wednesday. In early trade concerns over rising US – China tensions dragged on risk sentiment and the riskier Aussie Dollar. Reports circulated that the White House was considering undermining the Hong Kong Dollar's peg against the greenback as part of efforts to punish China over its national security law in Hong Kong.
Adding to the down beat mood early on, were concerns from Federal Reserve policy makers who warned that rising US coronavirus cases could hamper the economic recovery.
However, these anxieties were overshadowed as the US session progressed. Optimism surrounding the economic recovery drowned out geopolitical tensions and coronavirus numbers, even as the US surpassed 3 million cases. The US Nasdaq index rallied to a fresh record high.
Yesterday, data showed that the number of US job vacancies in May was significantly higher than what analysts had forecast, which is helping to underpin sentiment and keep the safe haven US Dollar weak ahead of tomorrow's jobless claims.
US jobless claims have become on the most closely watched macro data releases for timely insight into the heath of the US labour market. Analyst are expecting the number of initial claims to fall again to 1.3 million.
There has been little in the way of data from Australia over recent sessions. The RBA's non action earlier in the week was unsurprising. Although the central bank remains poised to help further if needed.
Aussie Dollar investors will continue to watch coronavirus headlines after Melbourne, the second largest city went back into lockdown. Any signs that the outbreak hasn't been contained could drag on the Australian Dollar.
---