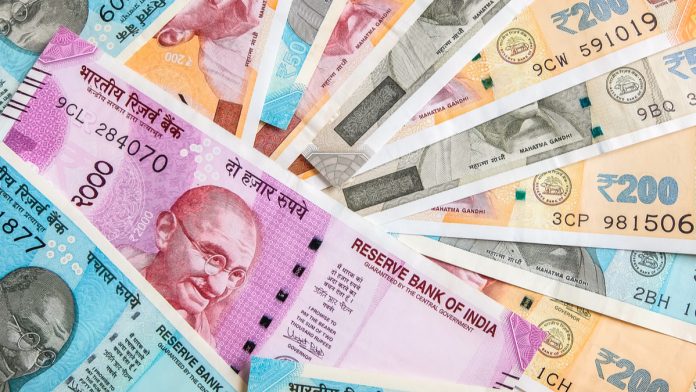 Indian Rupee (INR) slips as WB downgrades Indian GDP& global GDP
Growing list of institutions downgrade Indian growth
US Dollar (USD) advances on safe haven flows as geopolitical tensions rise
At 11:15 UTC, US Dollar to Indian Rupee (USD/INR) is trading +0.3% at 75.62
After two session of gains, the Indian Rupee is moving lower versus the US Dollar. The Rupee settled on Monday at +0.2% at 75.40.
At 11:15 UTC, USD/INR is trading +0.3% at 75.62. This is at the upper end of the daily traded range of 74.40 – 75.73 after the World Bank lowered India's GDP forecast.
According to the latest report published by the World Bank, India's economy is expected to contract -3.2% in fiscal year 2021 owing to the coronavirus lockdown, which paralysed the economy. The Bank also lowered its projection for fiscal year 2020, down from 6% growth to 5%.
The restrictions implemented to prevent the spread of the covid-19 virus, heavily curtailed activity which will contribute to the contraction, according to the World Bank.
The institution also predicted that the global economy would contract by -5.2% this year, representing the deepest global recession since World War 2.
The World Bank is part of a growing list of agencies which have downgraded India's growth forecast this year. Rating agency Moody's predicted that growth would hit zero in fiscal year 2021, whilst Fitch Ratings forecast that the Indian economy would contract by as much as 5%.
The broader risk climate also weighed on demand for the riskier Indian Rupee whilst boosting demand for the safe haven US Dollar.
Risk sentiment took a hit on Tuesday as tensions between North Korea and South Korea edged up a notch. North Korea has completely cut off communication with South Korea following a row over anti regime leaflets.
US – Chinese tensions, which have been simmering for weeks were also in danger of heating up again amid President Trump's intentions to sign the Uyghur (Muslim minority in Chinese province of Xinjiang) human rights bill.
Investors are expected to turn their attention towards the Federal Reserve monetary policy meeting tomorrow. The Fed will need to strike a balance between applauding the recent improvement in data without threatening its accommodative stance.
---