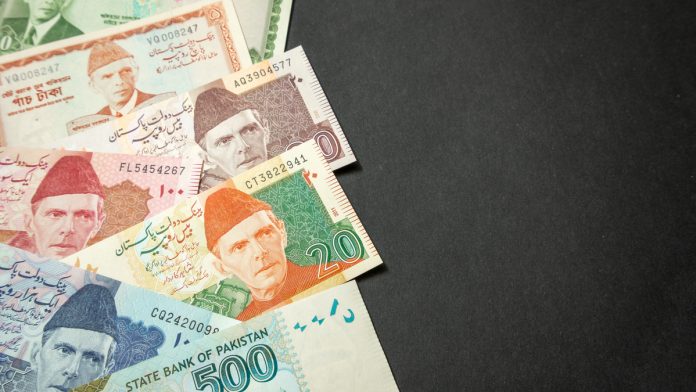 Pakistan continues to reopen economy despite coronavirus cases climbing
Oil prices have doubled over the past month
US jobs report smashed expectations 2.5 million job gains vs 8 million job losses forecast
At 10:15 UTC, US dollar to Pakistani Rupee (USD/PKR) is trading +0.2% at 163.35
The Pakistani Rupee is once again losing ground versus the US Dollar on Monday. The Rupee closed on Friday at 162.50 losing 1.1% across the week, the third straight week of losses.
At 10:15 UTC, USD/PKR is trading +0.2% at 163.35. This is mid-way between the daily traded range 162.87 – 163.50.
The Pakistan Rupee remains under pressure amid worsening coronavirus statistics and rising oil prices.
Business restrictions continue to be eased in areas of Pakistan despite coronavirus cases rising.  The nationwide tally of infections has now reached 103,671 on Monday, with 2,067 deaths.
Rising oil prices are presenting a headache for Pakistan. The price of oil has effectively doubled over the past month amid improving supply demand fundamentals. The group of oil producing counties (OPEC) and other producers, known as the OPEC plus group met over the weekend. The group agreed to extend current oil production cuts for at least another month. The announcement boosted the price of oil. Higher oil prices are bad news for the Pakistan economy.
The US Dollar is trading broadly lower versus its major peers, such as the Pound and the Euro. Demand for the safe haven currency fell last week and remains soft as investors cheer the reopening of the economy and upbeat jobs data.
US non-farm payroll data showed that 2.5 million jobs were created in the US in May, defying the 8 million job losses that analysts had forecast. The figure was also vast improvement on April's downwardly revised 20 million job losses. Meanwhile the US unemployment rate unexpectedly ticked lower to 13.3%, down from 14.7%.
The data showed that the US economy was more resilient than expected in the coronavirus crisis. Macro data is only expected to improve from here as states continue to reopen. Today sees New York reopen after more than 3 months lockdown. As many as 400,000 could return to work today following a weekend of more riots.
With no high impacting US data due to be released, investors will look ahead to the Federal Reserve's monetary policy announcement on Friday, and the Fed's interpretation on the astonishing jobs data.
---