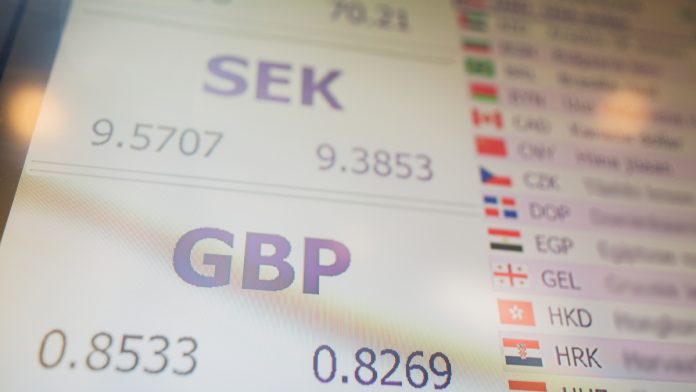 The Swedish Krona is slipping versus the Pound in early trade on Friday, after the Krona edged higher in the previous session. The Pound Swedish Krona exchange rate settled on Thursday -0.1% at 12.4361 after A slew of dire UK data.
At 06:15 UTC, GBP/SEK is advancing +0.1% at 12.4411 as investors brush off weak UK consumer confidence and look ahead to UK retail sales data and Swedish inflation figures.
UK Retail Sales Next
The Pound is recouping losses from the previous session on Friday, despite UK consumer confidence hitting the lowest level since the financial crisis. According to data from GFK, consumer confidence declined to -34 in April, down sharply from -9 in March. This is the second straight monthly decline in confidence as the covid-19 outbreak has a devastating impact on the UK economy.
Investors will now look ahead to UK retail sales data for March released by the Office of National Statistics. Analysts are expecting retail sales to drop -4% month on month and -4.7% on a yearly basis, reflecting the start of the lock down from 23rd March. Whilst this data predates yesterdays dismal PMI figures it will still be an important indicator assessing the scale of the hit to consumption from shutdowns.
Yesterday's composite PMI reading dropped to a record low of 12.9, down from 30.6 in March. The scale of the collapse in the PMI readings points to a 15% contraction in the second quarter, according to analysts at Goldman Sachs Investment bank.
Swedish Consumer Confidence Hits Lowest Level Ever
Despite slipping lower today, the Swedish Krona is on track to advance versus the Pound across the week.
Whilst Sweden has opted for a more relaxed approach to coronavirus refusing to go into full lock down, the economy is still showing signs of strain. Confidence levels in Sweden plunged to record levels in April creating fears that the Nordic economy is on track for its worst recession since World War 2.
The Swedish overall economic tendency survey dropped to 58.6, its lowest level ever. The weak data increases pressure on the Riksbank to take further action to salvage the economy.
Today investors will look ahead to the release of producer price index, which measures inflation data at wholesale level. Analysts are expecting a -2.4% month on month decline.
---