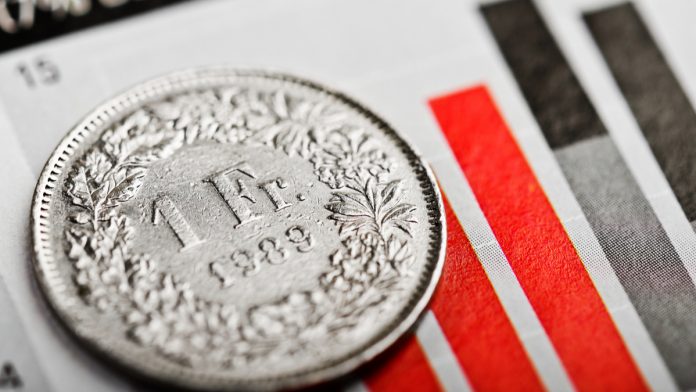 The Swiss Franc is advancing versus the Pound on Friday, snapping a two-day losing streak. The Swiss Franc settled on Thursday -0.1% lower at 1.2158 on dire Swiss data and as UK Prime Minister Boris Johnson said that the UK had passed the covid-19 peak.
At 11:15 UTC, GBP/CHF is trading -0.6% at 1.2084. This is at the lower end of the daily trading range of 1.2073 – 1.2175, after weaker than forecast UK manufacturing PMI data.
Pound Slumps As UK Manufacturing Output Dives
Data showed that UK factories slashed production and jobs at the fastest rate in decades, as the coronavirus crisis has crushed global demand and supply chains. The IHS/Markit CPS Manufacturing PMI, a closely watched survey showed that manufacturing output slumped at the fastest pace since records began. The April manufacturing PMI recorded 32.6 in the final reading. This was down from 47.8 in March, reflecting a full month of lock down. It is also well short of the 50 level which separates expansion from contraction.
The data highlights the damage that lock down is inflicting on the UK economy. Whilst other economies across Europe, including Switzerland, are gradually easing the lockdown measures the UK is still in the dark over the governments lock down exit strategy. Boris Johnson said on Thursday that he will outline the exit plan next week.
Trump's Comments Boost Safe Haven Flows
The Swiss Franc is advancing despite this week's negative Swiss data. This is because the Swiss Franc is seen as a safe haven. The dire economic situation across the globe, combined with growing fears of a second chapter to the US China trade war are boosting demand for the Franc.
President Trump fuelled fears of reigniting the US Sino trade war by threatening to impose tariffs on China in retribution for China failing to contain the coronavirus. President Trump also said that he has seen evidence proving that covid-19 started in a lab in Wuhan, China. The elevation of political tensions between the two powers is boosting flows into safe havens.
There is no Swiss economic data due to be released today. Instead investors will look ahead to Monday's manufacturing PMI.
---