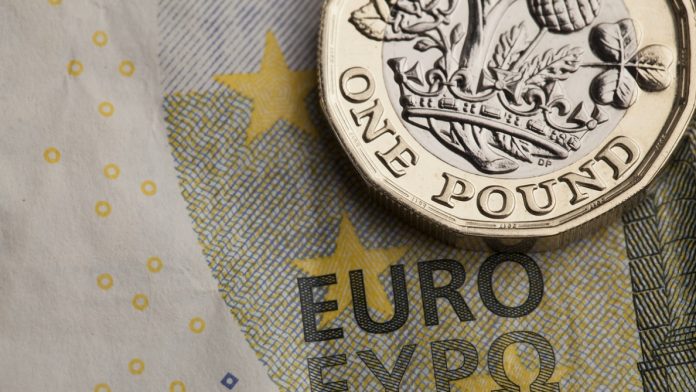 The Pound is holding steady versus the Euro in early trade on Wednesday after tanking southwards on Tuesday.
The Pound versus Euro exchange rate closed the previous session 1.1% lower at €1.1328 as the bad new kept mounting up for the Pound.
At 06:30 GBP/EUR is trading flat at €1.1328 after a quiet start, as the pair look ahead to UK inflation data and Eurozone consumer confidence.
Pound Under Pressure Amid Fears Of An Extended Lock Down
The Pound plummeted in the previous session as coronavirus statistics took a turn for the worse. Coronavirus daily fatalities jumped again to 828, pushing the death toll to 17,337. However, new cases dropped to 4301, the lowest level in a fortnight, a sign that the lock down is working.
Boris Johnson has adopted a dovish stance on the UK's exit strategy from the coronavirus lock down. Since returning to work after being taken ill with coronavirus, the PM is siding with ministers that are pushing for lock down restrictions to remain in place for longer. This would mean that the hit to the economy would me significantly deeper than initially thought, which is bad news for the Pound.
The Bank of England Governor Andrew Bailey also warned on easing lock down restrictions early.
Adding to the bad news, a senior government official confirmed Boris Johnson's intention for the Brexit transition period to end on 31st December.
Pound investors will now look towards the release of UK inflation data for March. Analysts are expecting inflation to be 0% month on month and 1.5% increase year on year, down from 0.4% and 1.7% respectively in February.
Eurozone Consumer confidence In Focus
The Euro traded on the front foot in the previous session after German investor sentiment bounced back in April., according to the ZEW Centre of European Economic Research. The headline ZEW investor expectation index rebounded from -49.5 last month to 28.2 in April. This was significantly ahead to expectations of -42.3. The data suggests that investors are starting to see a light at the end of the tunnel.
Today investors will look ahead to consumer confidence from the eurozone. Analysts are expecting consumer confidence to plunge to -20 from -11.6, amid the depths of the lock down lock down. The data comes as part of Europe starts to ease the lock down restrictions.
---