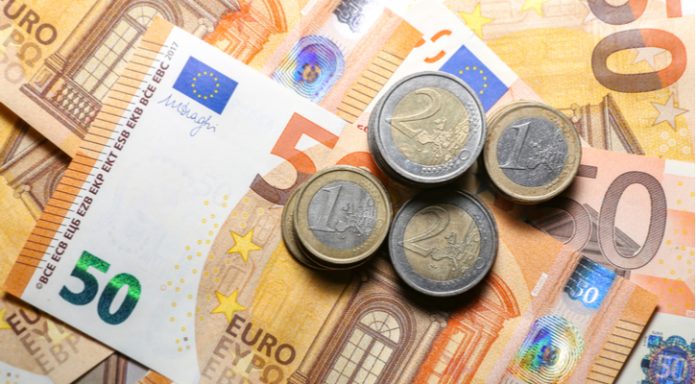 The Euro is slipping marginally lower versus the US Dollar at the start of the new week, extending losses from last week. The Euro US Dollar exchange lost 0.5% across the previous week, ending the session on Friday at US$1.0878.
At 08:15 UTC, EUR/USD is trading -0.1% lower at US$1.0863 as euro wide debt comes back into focus and investors look towards further aid in US.
Eurozone Lacks Coordinated Response
The Euro has kicked off the week with moderate losses as coronavirus figures are on the decline, but as European leaders remain divided over coronabonds. Italy reported 433 more coronvirus deaths, the second lowest daily amount for a month. Spain, France and Germany are all showing that the figures are moving in the right direction – even if frustratingly slow in some cases.
Read also: What is the effect of coronavirus on Euro and US Dollar
Attention is turning to how to exit lock down. Spain has reopened parts of its economy; Germany is planning to do so next week, and France will lay out its exit plans in the coming days. The European Commission has put together guidelines for the easing of lock down however, there is a lack of coordination.
The European debt issue will be in focus again this week as finance ministers from the Eurogroup meet again later in the week. The group failed to agree to coronabonds – European wide debt last week, which disappointed investors. Countries are reiterating their positions with regards to coronabonds at the start of the week with Italian Prime Minister Giuseppe Conte repeating his call for shared debt and Spain suggested expanding the initial aid package to €1.5 trillion.
Both France and Spain has issued stark warnings over the future of the EU. Whilst these concerns dominate the Euro will remain under pressure.
More US Aid Coming?
The US Dollar is trading broadly higher versus its peers despite ongoing uncertainty and internal clashes over exit strategies across the US. Cases and deaths appear to be on the decline, especially in the hardest hit New York state, however governors and the Federal government are suffering frictions.
On a positive not the Republicans and Democrats are closing in on an agreement for further aid to individuals and businesses, following $2.2 trillion package. If this is announced later today, it could boost the mood in the market and weigh on demand for the safe haven dollar.
---