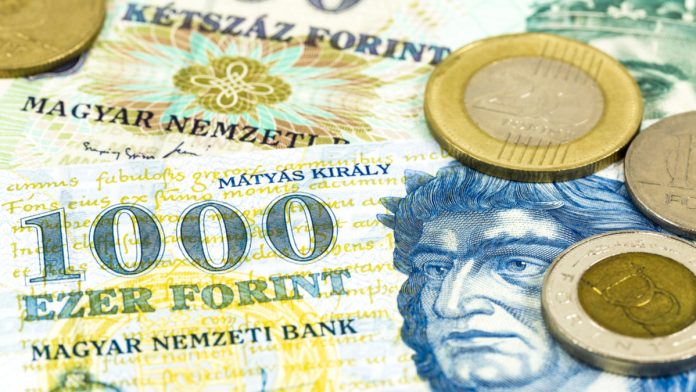 The Hungarian Forint is pushing higher for a second straight session on Good Friday. The Hungarian Forint strengthened by an impressive 2.1% on Thursday, settling at 323.40 amid improved market sentiment and following additional support from the US Federal Reserve.
At 09:15 UTC, USD/HUF is trading -0.45% at 321.86. This is at the lower end of the daily trading range of 321.73 – 324.50. Today is expected to be a relatively quiet session as European markets are closed for the extended Easter weekend holiday. US markets are open as usual. Investors will look ahead to US inflation data later today.
Hungarian Forint Benefits From Improved Risk Sentiment
Hungarian Forint has benefited this week from the better mood in the market. Whilst coronavirus cases and deaths are still escalating investors are growing increasingly hopeful that the peak will come soon. Some areas of Europe have seen a marked slowdown in cases and Austria, for example is considering easing its shut down as from next week.
Also boosting the Forint has been government and central bank support for the Hungarian economy. This week the European Commission approved a HUF 50 billion Hungarian aid scheme to support the Hungarian economy.
Safe Haven Dollar Dips After More Fed Support
The safe haven US Dollar has trended lower across the week thanks to growing optimism that the coronavirus could be reaching its peak and as central banks continue to roll out additional support for the economies.
Yesterday the Federal Reserve announced that is will pump a further $2.3 trillion into the economy through new and expanded programmes. This would be in addition to the measures and programmes already in place, with the aim of helping companies, states and local governments through the financial blow from the coronavirus outbreak.
The Fed's announcement came following data which showed that 6.6 more Americans signed up for unemployment insurance in just one week, laying bare the extent of the impact that the virus is having.
Today investors will look ahead to the release of US inflation data. Analysts are expecting inflation to decline -0.3% month on month in March, down from a 0.1% increase in February. The would be the largest monthly drop in inflation in three years amid tumbling oil prices and sharply reduced consumption.
---