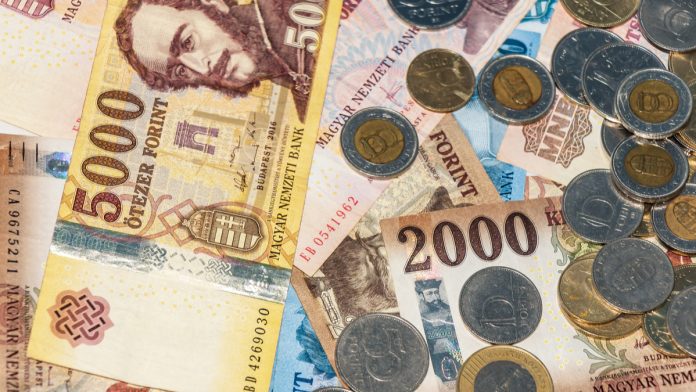 The Hungarian Forint is edging lower on Wednesday, after a stellar previous session. The Forint rallied 2.4% across Tuesday, from an opening price of 337.23, to settle at 328.96 after the Hungarian central bank and the government unveiled more monetary and fiscal stimulus.
At 09:15 UTC, USD/HUF was trading +0.3% at 329.96 on weaker Hungarian inflation and increased flows into the safe haven US Dollar.
Hungarian Inflation Increases Just 0.2% MoM
Demand for the Forint has weakened after data revealed a slowing in inflation in March. Inflation increased 0.2% month on month in March, this was down from the 0.3% increase recorded in February and well short of the 0.5% increase analysts expected.
On an annual basis inflation increased 3.9%, down from 4.4% in February but above the 3.6% forecast. The change in inflation was shaped by falling oil prices and rising food prices amid stock piling for the coronavirus outbreak. Weaker inflation means that rate hike expectations are pushed back, dragging on demand for the currency.
The inflation data comes after the National Bank of Hungary kept its main interest rate unchanged at 0.9% at the monthly policy meeting on Tuesday. However, the central bank raised two of its other interest rates and started bond buying in an attempt to deliver stimulus and prevent the freefall of the Forint. The move by the central bank followed an announcement of a stimulus plan worth 18-20% of GDP.
Both the Hungarian government and the central bank have been pledging huge levels of stimulus to the Hungarian economy in a bid to cushion the blow from the coronavirus impact and to halt the selloff of the Hungarian Forint; one of the hardest hit currencies in the region as investors seek safer havens.
US Dollar Rises On Safe Haven Flows
Whilst investors are fleeing riskier currencies such as the Hungarian Forint, the safe haven US Dollar is back in demand on Wednesday as coronavirus death rates rise. A jump in daily coronavirus fatalities I the UK, New York, Spain and Germany has raised fears that these hot spots are still ascending the curve rather moving beyond the peak.
Investors will continue to watch coronavirus headlines prior to the release of the Federal Reserve minutes from the March meeting, later today.
---