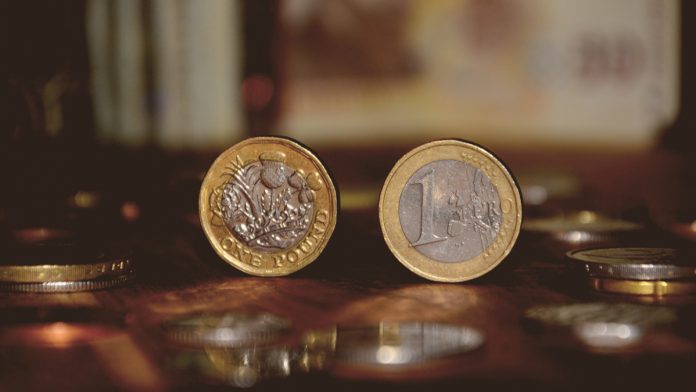 The British pound is lower against the euro on Tuesday.
The euro was higher before a teleconference meeting scheduled later on Tuesday of the Euro group of finance ministers, where analysts expect agreement might be reached on a coordinated response to the coronavirus crisis.
The British pound was down but off earlier lows after reports Prime Minister Boris Johnson was admitted to an intensive care unit in London to help cope with severe coronavirus symptoms.
Pound versus Euro was lower by 31 pips (-0.27%) to 1.1295 with a daily range of 1.1281 to 1.1362 as of 4pm GMT.
GBP/EUR fell sharply overnight but has since held onto those lows near 1.13 but been unable to push much higher finding tops near 1.135. Week-to-date losses stand at -0.32%.
Pound falls as Boris Johnson admitted to ICU
UK Prime Minister Boris Johnson was moved to the intensive care unit (ICU) at St. Thomas Hospital in London, sending the British pound to new weekly lows on Monday.  The pound later recovered some of the early losses on news that Johnson did not require a ventilator and he has not been diagnosed with Pneumonia. Nonetheless, Johnson's condition is a considerable risk to public confidence in the UK.
Euro higher on hopes for coronabonds
Eurozone finance ministers will meet later today to discuss a more coordinated response to the COVID-19 outbreak and the economic implications of stay at home and lockdown measures implemented by national governments.
There has been a big push to use the crisis as a venue to test the joint issuance of debt, on this occasion dubbed coronabonds. It would mean all national governments who use the euro would be on the hook for the newly issued bonds. Naturally more indebted nations with low sovereign debt ratings are more in favour of the idea than wealthier countries with higher credit ratings, principally Germany.
It may be that an intermediary step is taken first, including a third party institution or new fund issuing the debt on behalf of the national governments. Any scheme would likely involve the European Union, European Central Bank, European investment bank and the European Stability Mechanism.
---