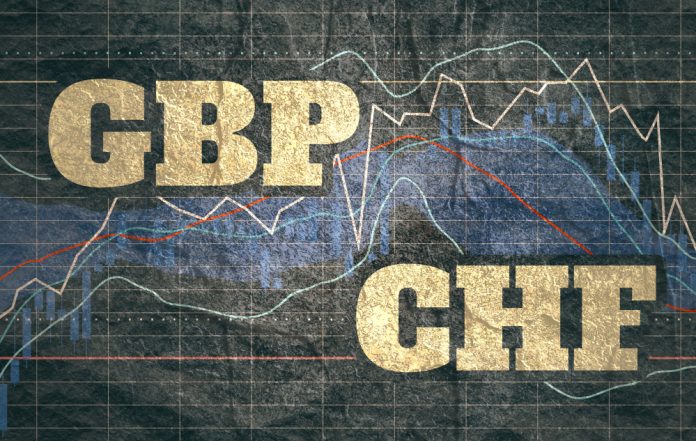 The British pound is higher against the Swiss franc on Monday.
Data indicating central bank actions to weaken the Swiss franc sent it lower.
Sterling had initially turned lower at the start of the week with on news that UK Prime Minister had been hospitalised. The currency quickly recovered since the hospital visit was said to be precautionary.
GBP/CHF was up by 45 pips (+0.36%) to 1.2018 with a daily range of 1.1925 to 1.2046 as of 2pm GMT.
Opening losses saw the currency pair slide to a low of the day at 1.194 before rebounding back above the 1.20 mark.  This past Friday the exchange rate completed a second week of gains, turning in a rise of +1.18%. It is fractionally higher by +0.21% this week.
Pound recovers from initial dip when Boris Johnson hospitalised
The early rebound in the pound against the Swiss franc (GBP/CHF) was consistent with a recovery in other exchange rates. Against the dollar (GBP/USD) the pound found a base at 1.22 and against the euro (GBP/EUR) it recovered from lows round 1.13.
On the basis that it is a short trip to the hospital for the Prime Minister on the advice of doctors, the affect on the currency should be fleeting. However, downside risks could re-emerge if the stay at hospital extends for a few days. Downing Street has insisted throughout Johnson's illness that he remains in charge so there is no clear leadership structure in his absence.
Swiss franc falls as SNB intervenes to weaken the currency
Weekly data for the holdings of sight deposits by the Swiss National Bank (SNB) showed the second highest jump in a year. Sight deposits tend to rise when the SNB credits commercial banks with freshly printed francs in exchange for foreign currency.
The pound was preferred to the franc as market sentiment seemed to improve on Monday. Shares had turned lower on Friday after the coronavirus lockdown caused a bigger than expected surge in US unemployment. By Monday the focus was on the deceleration in the number of new cases in Europe, helping equities as well as riskier currencies gain traction.
---