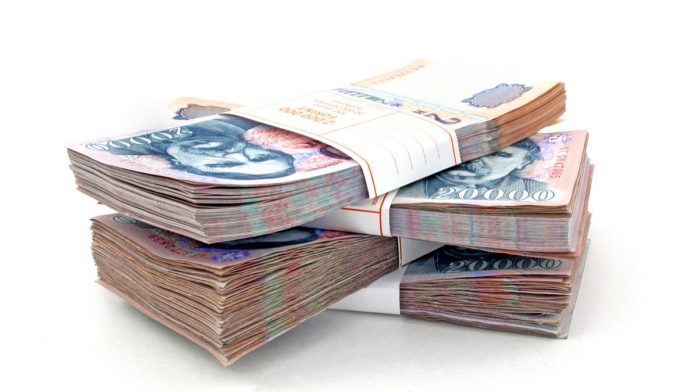 The Hungarian Forint is trending southwards versus the US Dollar in early trade on Thursday as risk sentiments edges lower. At 09:30 UTC, USD/HUF is trading at 325.88, towards the upper end of the daily range. Investors are looking nervously towards the release of US initial jobless claims.
The Forint closed the previous session 1.7% higher versus the US Dollar at 324.38 in a strong risk on session following the agreement of a $2 trillion fiscal stimulus package to prop up the US economy.
Risk Sentiment Declines Dragging Forint Lower
Data being released across the globe is starting to show the devastating impact that coronavirus is having on global economies. Overnight Singapore revealed that its GDP contracted by an eye watering 10.6% quarter on quarter, the deepest contraction since the first quarter of 2009 in the global financial crisis.
The data comes after the IMF warned that the coronavirus pandemic will cause a recession in 2020 as bad as the global financial crisis 11 years ago.
Adding to the bad news German GFK consumer confidence plunged to just 2.7 in April down from 8.3 in March. The data shows the enormous impact that the coronavirus outbreak and subsequent lock down is having on consumer sentiment.
As the shocking data starts to pour in investors are once again moving out of riskier assets and currencies such as the Hungarian Forint.
Record Jobless Claims Expected
Whilst the US Dollar is advancing versus the Forint, it is trading broadly lower versus its major peers as investors look ahead to the release of US initial jobless claims later today. Analysts are expecting initial jobless claims to have surged to between 1 million to 4 million. This is up significantly from 281,000 last week and 211,000 the week before. To put further perspective on this number the highest number of jobless claims ever recorded was 695,000 in 1982 followed by 665,000 claims in March 2009, the financial crisis.
The record number in initial jobless claims comes as businesses in the service sector and non-essential manufacturers close to prevent the spread of coronavirus. Staff have been laid off to control costs.
---