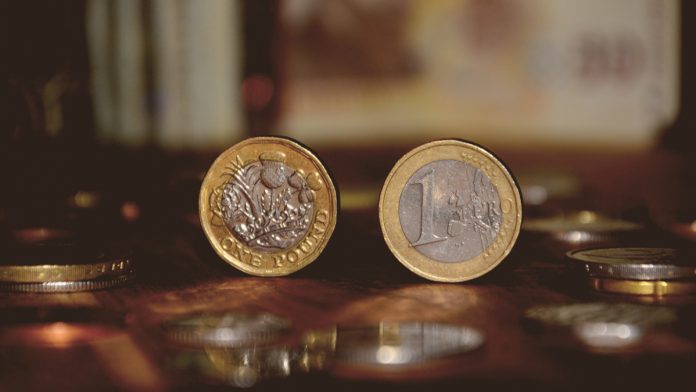 The British pound is lower against the euro on Monday with the coronavirus outbreak in the United Kingdom and the European Union making it less likely a Brexit trade deal can be reached by the end of the year.
Pound versus Euro was down by 56 pips (-0.50%) to 1.0997 with a daily range of 1.0949 to 1.1128 of 1pm GMT.
GBP/EUR has found some interim support at the 1.10 round number, which is limiting the hefty daily declines for now.
British pound falls as COVID-19 raises No Deal risk
Traders are selling the British pound in anticipation that that UK economy will fall into a recession, just as it faces the uncertainty of trade negotiations with the European Union after Brexit. There are rising bets that neither the UK nor the European Union will be in a position to properly negotiate a trade deal with both economies are facing the economic fallout from the coronavirus.
As of Sunday, the UK has a total of 1,395 positive cases of coronavirus and 35 people have died, according to John Hopkins University.
The pound is also suffering as a high-beta currency in a big risk-off mood across financial markets. The crisis from the coronavirus outbreak is worsening by the day as governments force emergency legislation and businesses react by shutting down.
Euro higher as Fed cuts rates (after ECB kept them steady)
The headlines from the weekend about a shutdown in economic activity in Europe have continued into Monday. Airlines have stopped routes and will likely need state aid, sporting events have been cancelled, hotels have been closed and in some countries only essential services will remain open.
The euro had gained, even against the US dollar when Germany announced plans for an economic stimulus package to fight the coronavirus on Friday. But the plans are already being called out as not enough.
Last week the European central bank increased its asset purchase scheme in order to add liquidity to financial markets but kept its main interest rates on hold. Since then, investors have been waiting for bigger fiscal stimulus plans in Europe.
---