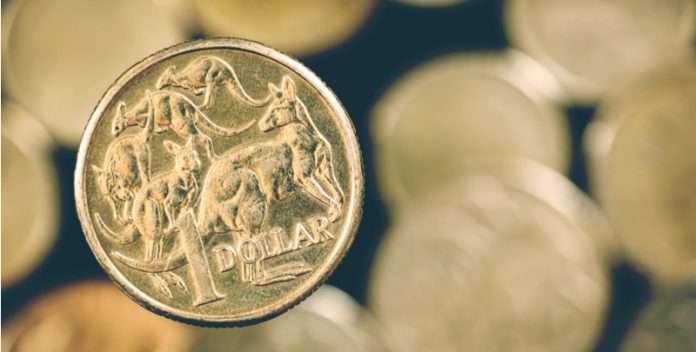 The Australian dollar closed the previous session lower for the third consecutive day. The pair dipped 0.1% to finish at US$10.6719. The Australian dollar is advancing on Thursday, as investors cheer strong domestic data and amid hopes of a US — China trade deal.
Strong Australian consumer inflation expectation figures helped lift the Aussie dollar in early trade. Inflation expectations unexpectedly jumped to 3.6% in October, significantly up from 3% in September. Higher inflation would dampen the Reserve Bank of Australia's desire to cut interest rates further. The data was therefore supportive of the Aussie dollar.
Trade talks between the US and China starting today have been a central focus for Aussie dollar investors. This is because China is Australia's biggest trading partner. Therefore, the health of the two economies is closely linked. A trade deal between the US and China would boost the Chinese economy and the knock-on effect would be positive for the Australian economy.
Trade headlines have been contradictory before the negotiations even begin. However, reports of a possible currency agreement, no more tariffs and other agreements have booted investor optimism that some form of deal can be reached. Australian dollar investors will continue to follow headlines closely.
US Inflation Misses Forecasts
The US dollar was broadly out of favour on Thursday as trade deal optimism reduced investors' demand for safe haven protection. The dollar, the reserve currency of the world is considered to be a safe haven. When geopolitical tensions rise, demand for the dollar increases and vice versa.
In addition to trade headlines, which will continue to direct the dollar across the session, investors also looked towards US inflation data as measured by the consumer price index (CPI). CPI held steady at 1.7% year on year in September. This was below of analysts' expectations of 1.8%. Weak inflation, which is well below the Federal Reserve's 2% target could encourage the Fed cut interest rates again this year.
Why do interest rate cuts drag on a currency's value?
Interest rates are key to understanding exchange rate movements. Those who have large sums of money to invest want the highest return on their investments. Lower interest rate environments tend to offer lower yields. So, if the interest rate or at least the interest rate expectation of a country is relatively lower compared to another, then foreign investors look to pull their capital out and invest elsewhere. Large corporations and investors sell out of local currency to invest elsewhere. More local currency is available  as the demand of that currency declines, dragging the value lower.
Looking ahead trade talks will take centre stage. Tomorrow dollar investors will also look towards US consumer confidence figures for further insight into the health of the US economy.
What do these figures mean?
When measuring the value of a pair of currencies, one set equals 1 unit and the other shows the current equivalent. As the market moves, the amount will vary from minute to minute.

For example, it could be written:

1 USD = 0.6784 AUD

Here, $1 is equivalent to approximately A$0.67. This specifically measures the US dollar's worth against the Australian dollar. If the Aussie dollar amount increases in this pairing, it's positive for the US dollar.

Or, if you were looking at it the other way around:

1 AUD = 1.4739 USD

In this example, A$1 is equivalent to approximately $1.47. This measures the Australian dollar's worth versus the US Dollar. If the US dollar number gets larger, it's good news for the Aussie dollar.
This publication is provided as general information only and is not intended as an exhaustive treatment of its subject. TransferWise Inc. and its affiliates ("we" or "us") expressly disclaim any contractual or fiduciary relationship with you on the basis of the content of this publication, and you may not rely thereon for any purpose. You should consult with qualified professionals or specialists before taking, or refraining from, any action on the basis of the content in this publication. The information in this publication does not constitute legal, tax, investment or other professional advice from us.  We make no representations, warranties or guarantees, whether express or implied, that the content in the publication is accurate, complete or up to date, and DISCLAIM ANY IMPLIED WARRANTIES OF MERCHANTABILITY OR FITNESS FOR A PARTICULAR PURPOSE.