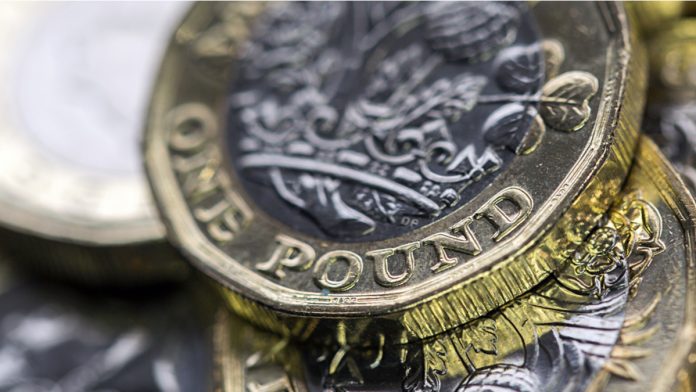 The pound advanced in the previous session on renewed Brexit optimism and encouraging UK data. The pound euro exchange rate rallied to a three-month high of €1.1231. However, gains were capped by a strong euro and the pair closed at €1.1173. The pound is edging higher in early trade on Tuesday.
What do these figures mean?
When measuring the value of a pair of currencies, one set equals 1 unit and the other shows the current equivalent. As the market moves, the amount will vary from minute to minute.

For example, it could be written:

1 GBP = 1.13990 EUR

Here, £1 is equivalent to approximately €1.14. This specifically measures the pound's worth against the euro. If the euro amount increases in this pairing, it's positive for the pound

.

Or, if you were looking at it the other way around:

1 EUR = 0.87271 GBP

In this example, €1 is equivalent to approximately £0.87. This measures the euro's worth versus the British pound. If the sterling number gets larger, it's good news for the euro.
The pound stormed ahead early in the previous session before giving up some of those gains. The pound was in demand as investors reacted to a softer stance by Boris Johnson towards Brexit.  The British Prime Minister Boris Johnson told his Irish counterpart Leo Varadkar that he wanted to get a deal done. Investors continue to watch to see whether Boris Johnson will defy the anti — hard Brexit bill which became law on Monday. The law now compels Boris Johnson to request an extension from the EU come 31st October if a no deal has not been agreed.
Part of the sterling rally came from UK data. UK GDP data showed that the UK economy grew a stronger than expected 0.3% month on month in July. This was stronger than the 0.1% that analysts had forecast. At least whilst Parliament was showing signs of falling apart, the economy is holding up better than expected. Recession fears eased boosting the pound.
Why does strong economic data boost a country's currency?
Solid economic indicators point to a strong economy. Strong economies have strong currencies because institutions look to invest in countries where growth prospects are high. These institutions require local currency to invest in the country, thus increasing demand and pushing up the money's worth. So, when a country or region has good economic news, the value of the currency tends to rise.
Euro Gains On German Fiscal Stimulus Hopes
The euro was broadly in demand, albeit less so than the pound in the previous session. Finally, some good news from Germany helped boost the mood towards the common currency. Trade figures showed that exports from Germany unexpectedly increased in July 0.7%, a considerable improvement from June's -0.1% decline. The improved trade balance will have offered some relief to the battered German economy. However, the outlook hasn't changed.
A slew of downbeat data released from Europe's largest economy has led to fears that Germany is heading for recession in the third quarter of the year. However, reports that the German government may boost fiscal stimulus has raised hopes that other governments in the bloc will follow suit and act to boost growth in the region.
Today there is no high impacting eurozone economic data to be released. Instead investors will look ahead to Thursday's European Central Bank monetary policy announcement. Yesterday's better trade balance from Germany is unlikely to change the fact that the ECB are ready to implement stimulus measures, which is keeping a cap on euro gains.
Why do interest rate cuts drag on a currency's value?
Interest rates are key to understanding exchange rate movements. Those who have large sums of money to invest want the highest return on their investments. Lower interest rate environments tend to offer lower yields. So, if the interest rate or at least the interest rate expectation of a country is relatively lower compared to another, then foreign investors look to pull their capital out and invest elsewhere. Large corporations and investors sell out of local currency to invest elsewhere. More local currency is available  as the demand of that currency declines, dragging the value lower.
Currencylive.com  is a site operated by TransferWise Inc. ("We", "Us"), a Delaware Corporation. 
The content on our site is provided for general information only. It is not intended to amount to advice on which you should rely. You must obtain professional or specialist advice before taking, or retain from, any action on the basis of the content on our site.
Although we make reasonable efforts to update the information on our site, we make no representations, warranties or guarantees, whether express or implied, that the content on our site is accurate, complete or up to date. Some of the content posted on this site has been commissioned by Us, but is the work of independent contractors. These contractors are not employees, workers, agents or partners of TransferWise and they do not hold themselves out as one. The information and content posted by these independent contractors have not been verified or approved by Us. The views expressed by these independent contractors on currencylive.com do not represent our views.