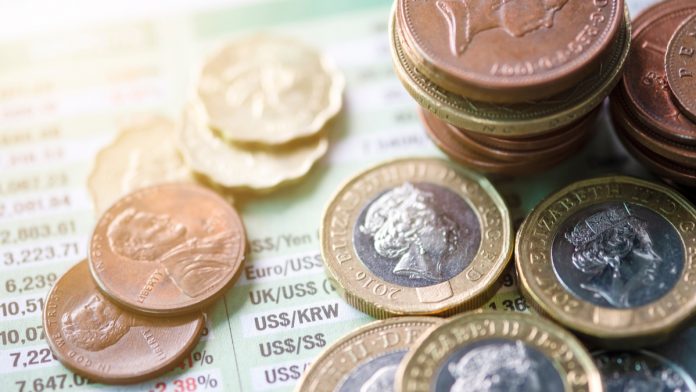 The pound dropped steadily lower versus the US dollar on Thursday. Brexit uncertainty plus improved sentiment surrounding the US — Sino trade dispute sent the pound US dollar exchange rate southwards. The pair closed down 0.2% at US$1.2184 and continues to hover at this level in early trade on Friday.
What do these figures mean?
When measuring the value of a pair of currencies, one set equals 1 unit and the other shows the current equivalent. As the market moves, the amount will vary from minute to minute.

For example, it could be written:

1 GBP = 1.28934 USD

Here, £1 is equivalent to approximately $1.29. This specifically measures the pound's worth against the dollar. If the US dollar amount increases in this pairing, it's positive for the pound.

Or, if you were looking at it the other way around:

1 USD = 0.77786 GBP

In this example, $1 is equivalent to approximately £0.78. This measures the US dollar's worth versus the British pound. If the sterling number gets larger, it's good news for the dollar.
Sterling struggled for a second straight day on Thursday, amid growing concerns of a no deal Brexit. Prime Minister Boris Johnson obtained permission from the Queen to suspend Parliament for over a month ahead of Brexit. This move has increased the chances of a no deal Brexit. The suspension means that Parliament will have very little time to approve legislation to prevent a disorderly Brexit. Yet whilst MP's say it will be challenging, they also say that it is not impossible.
Today's headlines that Prime Minister Boris Johnson is stepping up Brexit talks in order to break the current impasse is offering some support to the pound. However, both sides are sounding cautious as to the chances of an imminent breakthrough. There is still considerable distance between the two positions.
Why is a "soft" Brexit better for sterling than a "hard" Brexit?
A soft Brexit implies anything less than UK's complete withdrawal from the EU. For example, it could mean the UK retains some form of membership to the European Union single market in exchange for some free movement of people, i.e. immigration. This is considered more positive than a "hard" Brexit, which is a full severance from the EU. The reason "soft" is considered more pound-friendly is because the economic impact would be lower. If there is less negative impact on the economy, foreign investors will continue to invest in the UK. As investment requires local currency, this increased demand for the pound then boosts its value.
There are a few pieces of second tier data due for release today. Investors are unlikely to pay much attention to these. Brexit developments will continue to drive movement in the pound.
Dollar Strengthens On US — Sino Trade Optimism
The dollar received a boost from reports that China wouldn't immediately retaliate against the US tariff increase. A more conciliatory tone, this time from China is helping to ease tensions between the two powers, boosting the dollar. Investors fear that a full-blown trade war with Chia could negatively impact the US economy and result in the Fed cutting interest rates again. Therefore, any sense that relations could bee improving between the US and China boosts the dollar.
Today dollar investors will look towards US PCE figures. PCE measures inflation and is the Fed's preferred measure of inflation. Analysts predict that PCE will remain steady at 1.6% on an annual basis with a 0.2% increase month on month. A stronger than forecast reading could send the dollar higher. A higher rate of inflation reduces the chances probability of the Federal Reserve cutting interest rates.
Why do interest rate cuts drag on a currency's value?
Interest rates are key to understanding exchange rate movements. Those who have large sums of money to invest want the highest return on their investments. Lower interest rate environments tend to offer lower yields. So, if the interest rate or at least the interest rate expectation of a country is relatively lower compared to another, then foreign investors look to pull their capital out and invest elsewhere. Large corporations and investors sell out of local currency to invest elsewhere. More local currency is available  as the demand of that currency declines, dragging the value lower.
Currencylive.com  is a site operated by TransferWise Inc. ("We", "Us"), a Delaware Corporation. 
The content on our site is provided for general information only. It is not intended to amount to advice on which you should rely. You must obtain professional or specialist advice before taking, or retain from, any action on the basis of the content on our site.
Although we make reasonable efforts to update the information on our site, we make no representations, warranties or guarantees, whether express or implied, that the content on our site is accurate, complete or up to date. Some of the content posted on this site has been commissioned by Us, but is the work of independent contractors. These contractors are not employees, workers, agents or partners of TransferWise and they do not hold themselves out as one. The information and content posted by these independent contractors have not been verified or approved by Us. The views expressed by these independent contractors on currencylive.com do not represent our views.