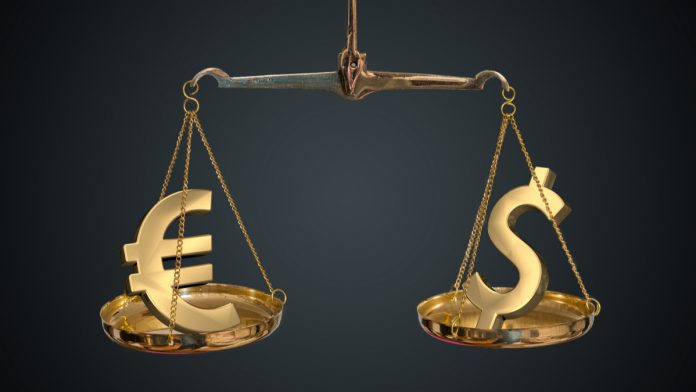 The euro edged steadily lower versus the US dollar on Monday. The euro US dollar exchange rate dipped to a nadir of US$1.1077 in the previous session, down 0.1% on the day. The pair is attempting to claw back yesterday's declines in early trade on Tuesday.
What do these figures mean?
When measuring the value of a pair of currencies, one set equals 1 unit and the other shows the current equivalent. As the market moves, the amount will vary from minute to minute.

For example, it could be written:

1 EUR = 1.12829 USD

Here, €1 is equivalent to approximately $1.13. This specifically measures the euro's worth against the dollar. If the U.S. dollar amount increases in this pairing, it's positive for the euro.

Or, if you were looking at it the other way around:

1 USD = 0.88789 EUR

In this example, $1 is equivalent to approximately €0.89. This measures the U.S. dollar's worth versus the euro. If the euro number gets larger, it's good news for the dollar.
Weak inflation data sent the euro lower in the previous session. Inflation as measured by the consumer price index (CPI) fell -0.5% month on month in July. This was significantly down from 0.2% growth in the previous month. On an annual basis inflation was at a lacklustre 1%. This is short of the European Central Bank's 2% target for inflation. It was also the weakest level for inflation since 2017.
The euro dropped as investors believe that the European Central Bank will adopt a more accommodative monetary policy stance, in an attempt to sure up the bloc's economy. The prospect of loser monetary policy through stimulus packages or an interest rate cut weighed on demand for the euro.
Why do interest rate cuts drag on a currency's value?
Interest rates are key to understanding exchange rate movements. Those who have large sums of money to invest want the highest return on their investments. Lower interest rate environments tend to offer lower yields. So, if the interest rate or at least the interest rate expectation of a country is relatively lower compared to another, then foreign investors look to pull their capital out and invest elsewhere. Large corporations and investors sell out of local currency to invest elsewhere. More local currency is available as the demand of that currency declines, dragging the value lower.
Today is a relatively quiet day as far as eurozone economic data is concerned. German produce price index (PPI) could attract some attention. PPI, which measures inflation at factory level is considered to be important by economists because it gives an indication as to future consumer price inflation. A strong PPi often points to a tick higher in consumer inflation in the future.
US Received Support From Easing US — Sino Trade Tensions
The dollar edged steadily higher across the previous session and was a top performing currency against its peers on Monday. An easing in trade tensions between the US and China helped lift market sentiment and the US dollar.
President Trump allowed US tech companies to continue selling to China's Huawei under certain circumstances for another 90 days. This, in addition to encouraging rhetoric from the US President over talks between the US and China is boosting hopes of an agreement between the two powers. Given that analysts fear that the US — Sino trade war could be negatively impacting the US economy, an agreement would be good news for the US economy. The dollar rallied on optimism of an agreement.
Whilst there is no high impacting data today for dollar investors to digest, Fed minutes on Wednesday, US PMI figures on Thursday and a speech by Federal Reserve Chair Jerome Powell on Friday will mean that dollar investors have plenty to scrutinise across the second half of the week.
Currencylive.com  is a site operated by TransferWise Inc. ("We", "Us"), a Delaware Corporation. 
The content on our site is provided for general information only. It is not intended to amount to advice on which you should rely. You must obtain professional or specialist advice before taking, or retain from, any action on the basis of the content on our site.
Although we make reasonable efforts to update the information on our site, we make no representations, warranties or guarantees, whether express or implied, that the content on our site is accurate, complete or up to date. Some of the content posted on this site has been commissioned by Us, but is the work of independent contractors. These contractors are not employees, workers, agents or partners of TransferWise and they do not hold themselves out as one. The information and content posted by these independent contractors have not been verified or approved by Us. The views expressed by these independent contractors on currencylive.com do not represent our views.