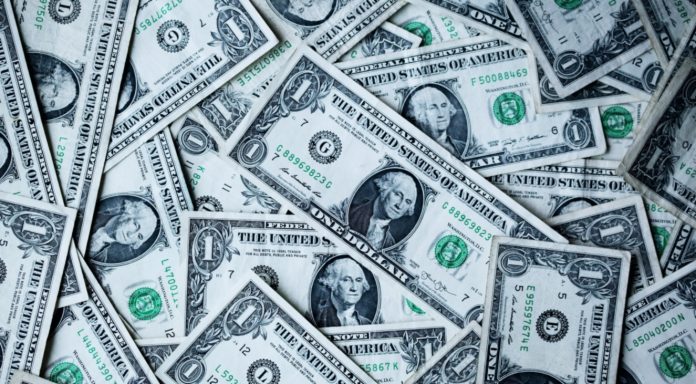 Brexit and UK politics ensured big swings in the pound on Monday. The pound US dollar exchange rate experienced high volatility diving to a low of US$1.2797 before recovering quickly and ending the session higher on the day.
What do these figures mean?
When measuring the value of a pair of currencies, one set equals 1 unit and the other shows the current equivalent. As the market moves, the amount will vary from minute to minute.For example, it could be written:1 GBP = 1.28934 USD Here, £1 is equivalent to approximately $1.29. This specifically measures the pound's worth against the dollar. If the US dollar amount increases in this pairing, it's positive for the pound. Or, if you were looking at it the other way around:1 USD = 0.77786 GBP In this example, $1 is equivalent to approximately £0.78. This measures the US dollar's worth versus the British pound. If the sterling number gets larger, it's good news for the dollar.
Brexit headlines moved the pound in the previous session. UK Prime Minister Theresa May managed to hold onto power for another day amid chaos in her party over her Brexit plan. The number of letters from Conservative Members of Parliament (MP's) declaring no confidence in their Prime Minister is reportedly at 40. 48 are needed for a vote of no confidence to be called.
Meanwhile Theresa May was busy drumming up support from business leaders and was helped by additional lobbying from Chief EU Negotiator Michel Barnier. Michel Barnier suggested that the transition period could be extended if necessary, something Theresa May acknowledged as an option but one she would rather not exercise. Overall, political news yesterday was of a more positive nature, bringing Theresa May back from the brink. As a result, the pound moved higher.
How does political risk have impact on a currency?
Political risk drags on the confidence of consumers and businesses alike, which means both corporations and regular households are then less inclined to spend money. The drop in spending, in turn, slows the economy. Foreign investors prefer to invest their money in politically stable countries as well as those with strong economies. Signs that a country is politically or economically less stable will result in foreign investors pulling their money out of the country. This means selling out of the local currency, which then increases its supply and, in turn, devalues the money.
Today investors will continue to remain focused on Westminster for any political developments. Bank of England (BoE) Governor Mark Carney and three BoE officials will also appear before the Treasury Select Committee. Here, Mark Carney and co. will give their views on the economy and will also be questioned on plans for a no deal Brexit.
Will Housing Starts Boost The Dollar?
The dollar traded lower for a third straight session on Monday. Investors continued to sell out of the dollar following cautious words from several Federal officials in the previous week. The dovish comments from Fed speakers have caused investors to slash their expectations for interest rate hikes next year which has weighed on demand for the currency.
Today investors will look towards US housing starts data. Interestingly the Fed's cautious rhetoric comes as economic data on the whole continues to improve against analyst forecasts. Analysts expect housing starts to increase 2.4% month on month in October, up from a -5.3% decline in the previous month. This would be a positive sign for the economy and could give the dollar a boost.
Why does strong economic data boost a country's currency?
Solid economic indicators point to a strong economy. Strong economies have strong currencies because institutions look to invest in countries where growth prospects are high. These institutions require local currency to invest in the country, thus increasing demand and pushing up the money's worth. So, when a country or region has good economic news, the value of the currency tends to rise.

This publication is provided for general information purposes only and is not intended to cover every aspect of the topics with which it deals. It is not intended to amount to advice on which you should rely. You must obtain professional or specialist advice before taking, or refraining from, any action on the basis of the content in this publication. The information in this publication does not constitute legal, tax or other professional advice from TransferWise Inc., Currency Live or its affiliates. Prior results do not guarantee a similar outcome. We make no representations, warranties or guarantees, whether express or implied, that the content in the publication is accurate, complete or up to date. Consult our risk warning page for more details.
This article was initially published on TransferWise.com from the same author. The content at Currency Live is the sole opinion of the authors and in no way reflects the views of TransferWise Inc.