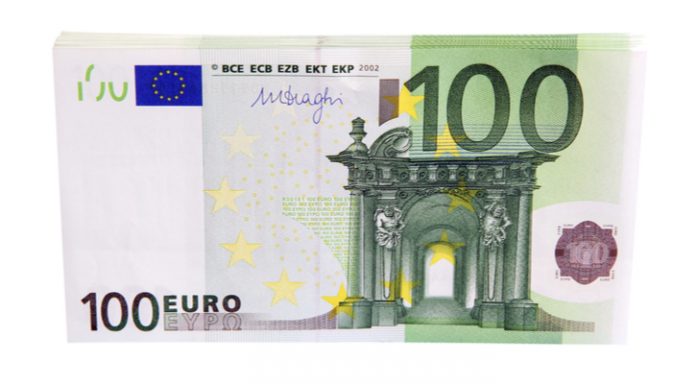 Strong US data and a sharp sell off in the euro boosted the dollar, overshadowing a lift in UK retail sales figures. The pound sunk heavily across the day, dropping from a peak of US$1.3392 to a low of US$1.3258.
What do these figures mean?
When measuring the value of a pair of currencies, one set equals 1 unit and the other shows the current equivalent. As the market moves, the amount will vary from minute to minute.
For example, it could be written: 1 GBP = 1.28934 USD
Here, £1 is equivalent to approximately $1.29. This specifically measures the pound's worth against the dollar. If the US dollar amount increases in this pairing, it's positive for the pound.
Or, if you were looking at it the other way around: 1 USD = 0.77786 GBP
In this example, $1 is equivalent to approximately £0.78. This measures the US dollar's worth versus the British pound. If the sterling number gets larger, it's good news for the dollar.
The pound moved higher in early trade after UK retail sales impressed investors. UK retail sales grew 4.4% year on year in May, up from April's 1.4% and significantly higher than the 2.5% forecast by analysts. Consumers returned to the high street, lured out by the warmer weather after a long harsh winter and by the Royal wedding. Additionally, UK consumers have now enjoyed three months of wage growth outpacing inflation. This means that pressure on household's pay checks should be easing meaning they have more money to spend, which will have also helped lift retail sales. Analysts and the Bank of England consider retail sales data to be an indication of future inflation, therefore a strong reading can help lift interest rate rise expectations, boosting the pound.
Why do raised interest rates boost a currency's value?
Interest rates are key to understanding exchange rate movements. Those who have large sums of money to invest want the highest return on their investments. Higher interest rate environments tend to offer higher yields. So, if the interest rate or at least the interest rate expectation of a country is relatively higher compared to another, then it attracts more foreign capital investment. Large corporations and investors need local currency to invest. More local currency used then boosts the demand of that currency, pushing the value higher.
The stronger reading came after a week of disappointing UK releases, including manufacturing output hitting a 5 year low, wage growth unexpectedly declining and stagnant inflation. Taking all the figures into consideration the BoE will find little reason to hike rates this summer.
After a busy week of economic releases and Brexit news the pound could have a quieter session today as there is no data due for release.
Dollar Charged Higher As Data Impresses
The US dollar surged on Thursday after US data supported the Federal Reserve's upbeat view on the US economy. Retail sales in the US increased twice as much as analysis had anticipated in May at 0.8% month on month. This was also well ahead of April's 0.4% increase and the biggest rise in 6 months. The strong data came less than 24 hours after the US Federal Reserve gave an optimistic assessment of the US economy, after they raised interest rates for the second time this year.
Today trade concerns are going to be back in focus as President Trump has decided to go ahead and impose trade tariffs on $50 billion worth of Chinese imports. He is due to make an announcement today which could create some volatility in the dollar.

This publication is provided for general information purposes only and is not intended to cover every aspect of the topics with which it deals. It is not intended to amount to advice on which you should rely. You must obtain professional or specialist advice before taking, or refraining from, any action on the basis of the content in this publication. The information in this publication does not constitute legal, tax or other professional advice from TransferWise Inc., Currency Live or its affiliates. Prior results do not guarantee a similar outcome. We make no representations, warranties or guarantees, whether express or implied, that the content in the publication is accurate, complete or up to date. Consult our risk warning page for more details.
This article was initially published on TransferWise.com from the same author. The content at Currency Live is the sole opinion of the authors and in no way reflects the views of TransferWise Inc.