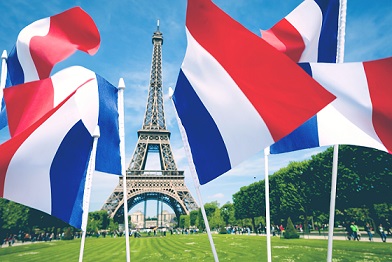 The euro edged marginally higher versus sterling on the news that pro-euro, centrist candidate Emmanuel Macron had won the French Presidential elections on Sunday evening, against eurosceptic, far-right candidate Marine LePen. Macron's victory is being considered a vote of confidence for European unity and quells concerns over the biggest political challenge to the single currency in its eighteen-year history.
Why LePen was considered dangerous for the euro
Throughout her campaign, Macron's opponent, LePen had openly voiced her desire for a French exit from the European Union, in addition to her plans to reintroduce France's previous currency- the Franc. The EU losing France, its second largest economy, would have spelt disaster for the union and quite possibly the end of the single currency.
No surprise to provoke another strong relief rally
The second and final round of voting saw Macron win with around 65% of votes, whilst LePen gained around 35%; however, the upside for the euro has been limited and its reaction muted. This is so for two reasons, firstly because a Macron victory was already priced in following his victory in the first-round last weekend, the euro has steadily been gaining ground throughout the last week in anticipation of a Macron win, and secondly because Macron won by roughly the margin that the polls had been predicting so there was no surprise to provoke another strong relief rally in the currency.
A Macron win is being considered positive for the euro as he is expected to push for reforms to stimulate growth and employment in France, which has dragged behind Germany and the UK. He was needing a win of over 55% in order for his party En Marche! to be expected to perform well in the National Assembly elections in June, where his party needs to gain seats to be able to push the economic reforms through.
Macron victory not the best outcome for sterling
Sterling was holding up well against the euro following Macron's victory. A LePen win, however unlikely, was always considered a better result for the pound. A victory by Marcon will put to bed any Frexit concerns, keeping the EU intact and possibly building on feelings of solidarity, which could be bad news for sterling as Brexit negotiations kick off.

This publication is provided for general information purposes only and is not intended to cover every aspect of the topics with which it deals. It is not intended to amount to advice on which you should rely. You must obtain professional or specialist advice before taking, or refraining from, any action on the basis of the content in this publication. The information in this publication does not constitute legal, tax or other professional advice from TransferWise Inc., Currency Live or its affiliates. Prior results do not guarantee a similar outcome. We make no representations, warranties or guarantees, whether express or implied, that the content in the publication is accurate, complete or up to date. Consult our risk warning page for more details.
This article was initially published on TransferWise.com from the same author. The content at Currency Live is the sole opinion of the authors and in no way reflects the views of TransferWise Inc.